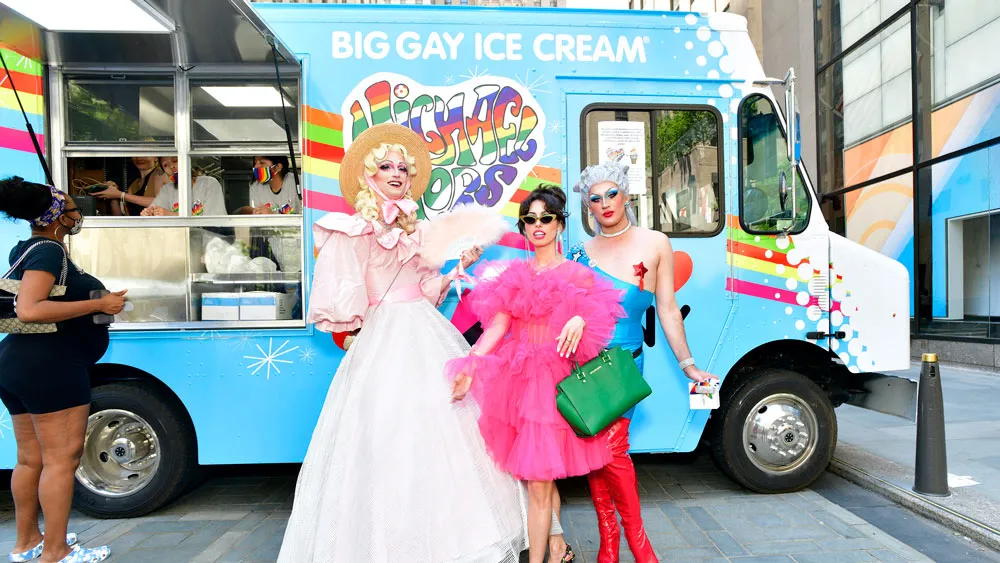 Big Gay Ice Cream in the Middle of Legal Freeze
The partners behind the Big Gay Ice Cream Truck are now reportedly locked in a legal freeze, with one accusing the other of mismanagement and loan fraud.
As reported by The New York Times, Ice Cream Truck founder and partner Doug Quint has filed a lawsuit in New York State Supreme Court accusing partner Jon Chapski of the aforementioned offenses.
According to a spokesperson for Chapski, he is reviewing the accusations in the lawsuit with his lawyer and will respond "when appropriate."
In 2009, the Big Gay Ice Cream Truck skyrocketed to popularity after it appeared in the Brooklyn Pride parade and crystalized a cultural celebration of things gay and kitschy that culminated in the legalization of same-sex marriage.
The first few shops the partners opened enjoyed lots of popularity.
"Mr. Quint and Bryan Petroff, the avuncular (and gay) founders, went on to draw a mainstream following that helped make 'don't ask, don't tell' a thing of the past (in food marketing, at least)," NYT reports. "In 2017, Nestlé began distributing the company's hard-pack ice cream in supermarkets nationwide; People magazine covered the introduction of three new flavors in 2019."
But now the brand is down to one store and barely hanging on.
"I thought Big Gay was my life's work, the thing I was meant to do," said Quint. A former classical musician, he gave up that career to manage the Big Gay Ice Cream Truck stores full-time and even secured a six-figure deal to write the cookbook "Big Gay Ice Cream: Saucy Stories and Frozen Treats."
However, Quint reportedly lost control of the company and had to leave NYC during the pandemic. The brand is now in debt and Quint works at a Walgreens in Pittsfield, Maine, where he grew up.
Per the lawsuit, Quint's is seeking $4 million from Chapski, alleging "breach of contract, fiduciary irresponsibility and willful misconduct."
With the help of partner Bryan Petroff, Quint hopes to revive the Big Gay Ice Cream Truck brand and bring it back to the masses. Petroff is not involved in the suit against Chapski.
Read the complete story at NYT.
---