Gay New York City: The Latest
A burn-it-down candidate is topping a splintered field of more moderate contenders and setting the party's establishment wing on edge.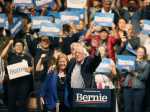 Bernie Sanders scored a commanding victory in Nevada's presidential caucuses, cementing his status as the Democrats' national front-runner but escalating tensions over whether he's too liberal to defeat Trump.
Lizzo was named entertainer of the year and "Just Mercy" won best motion picture, best actor and best supporting actor Saturday at the NAACP Image Awards.
President Donald Trump's national security adviser said he's seen no intelligence to show that Russia is interfering in the U.S. presidential campaign in hopes of reelecting President Donald Trump.
When dancer Camila Prins entered Sao Paulo's Carnival parade grounds, a costume of feathers clinging to her sinuous body, she fulfilled a dream of feminine beauty nearly three decades old.
After the chaos of the Iowa caucuses, Democrats were desperate to avoid another fiasco in Nevada. And early indications Saturday were that they succeeded.
The strike by military police demanding higher salaries in the state of Ceara is a headache for President Jair Bolsonaro, a staunch supporter of police forces who has pledged to curb violent crime.
Voters seeking to take back a U.S. Senate seat in closely divided North Carolina must choose whether liberal populism or centrist pragmatism is best suited to unseat Republican incumbent Thom Tillis.
A festive mood has enveloped Ahmedabad in India's northwestern state of Gujarat ahead of Prime Minister Narendra Modi's meeting there on Monday with President Donald Trump, whom he's promised millions of adoring fans.
Players on the U.S. women's national team are seeking more than $66 million in damages as part of their gender discrimination lawsuit against the U.S. Soccer Federation.
The country's leaders are struggling to figure out how to counter a recent rise in right-wing hate, 75 years after the Nazis were driven from power.
Hollywood's awards season isn't over quite yet, with the NAACP Image Awards putting the spotlight Saturday on the achievements of actors and musicians of color.
Deere & Co. had a surprisingly strong first quarter after an extended period in which the tractor and construction equipment maker was bruised by the ongoing trade war between the United States and China.

U.S. regulators on Friday approved a new type of cholesterol-lowering drug aimed at millions of people who can't tolerate — or don't get enough help from — widely used statin pills like Lipitor and Crestor.
When insurers revoke their decision to pay after the service is completed, patients are legally on the hook for the bill.
This wide range of choice can add confusion for shoppers looking to purchase or lease a new truck. Edmunds has identified five common uses and provided suggestions for the right size truck to meet truck shoppers' needs.
Women fighting breast cancer are increasingly seeing more options for bras as well as clean beauty treatments and other products that help them look and feel better.
You might have heard that the fear of a new virus from China is spreading faster than the actual virus.
Step out of the sun to check out South Beach's diverse art scene, featuring old masters, modern marvels, Instagram-worthy murals, and a high-tech video installation.
New York City, NY
For this special, once-a-year benefit, the New England Center for Circus Arts invites NECCA alumni and professional performers from around the world to donate their talents to raise money for NECCA's outreach and scholarship programs.
The 21st Annual Glam Awards celebrates the best of New York City Nightlife, it is also an incredible display of creativity, talent and camaraderie.