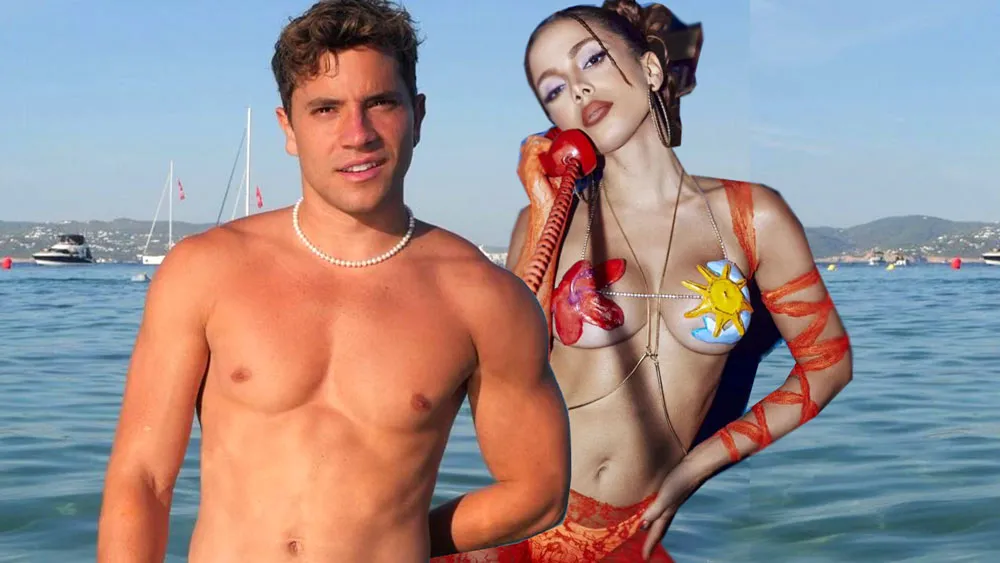 InstaQueer Roundup: Our Favorite Posts from the Week, Aug. 27
This week online was about building anticipation for major new music releases and dropping some of the most exciting magazine covers of the year. Instagram's been a wonderful action-packed showcase of queer creatives and phenomenal serves from the celebs we love most. We've been scrolling and saving the best of queer instagram for you. Let's jump right into this week's InstaQueer round-up!
Artsy vibes
Our celebration of creativity includes Chella Man's custom tattoo designs, queer "HSMTMTS" star Julia Lester turned into a living canvas, and the very on-theme shenanigans surrounding Omar Apollo's new song "Ice Slippin." "Locke & Key" star Connor Jessup and his bestie "Heartstopper" actor Sebastian Croft's queer organization have a new t-shirt for sale, and we love to see Anitta fully in Director mode for her "Casi Casi" music video.
On stage performance magnificence
Our fave posts from queer musicians this week include Lauren Sanderson being sentimental and signing boobs on tour, boygenius on stage with MUNA, Willow Smith in Tokyo, and Kehlani looking impossibly sexy in a strapless corset top. Tap through to the end of Olly Alexander's post to see him riding his dancer on stage, and for the most dramatic review of his show's horny energy.
Major cover moments!
While the studios refuse to pay a fair living wage, writers and actors on strike aren't allowed to market their work, but the pre-strike photoshoots are dropping alongside their long-awaited movies. There's a staggering amount of queer power on magazine covers this month –from the women of "Bottoms" looking badass (and queer as hell) for New York Magazine, to Rita Ora in a sparkly rainbow dress for Glamour Germany. The men of "Fellow Travelers" are elegantly suited up for Out, while "Red, White & Royal Blue" star Taylor Zakhar Perez's arms grace the cover of Man About Town, and Cardi B absolutely stuns for Vogue Mexico.
Beautiful landmark life moments
"Bottoms" director Emma Seligman at the cinema seeing her film, Ashnikko's cathartic debut album drops, Ashley Benson's home is featured in Architectural Digest, and queer love wins the Women's World Cup when we see it through the eyes of Spanish striker Alba Redondo's girlfriend and the player's adoring comment in reply. Dan Levy shares some thrilling cameos at his 40th birthday party, Miley's emotional over her new single, and Mila Jam is a floral dream honoring LGBTQ icon Marsha P. Johnson's birthday.
Sweet summer vibes and casual thirst traps
We've got Tommy Dorfman in a gorgeous floral dress for her first time on a sailboat, Willow Shields in her National Park film photography adventure era, and SHINJIRO shirtless in Miami. Jeremiah Brent sharing this beach moment with his husband Nate Berkus and their two kids feels really special. Stay tuned for "Mean Girls" icon turned professional crafter and internet hot guy Rajiv Surendra's pottery video and you'll see why he's in the thirst trap section of this list.
Serving!
We're wrapping up this week with some of the greatest slays of all time. Manu Ríos in this bikini-top and blazer combo is simply unforgettable, Ashnikko looks "fuckable" on fire, Rachel Sennott serving for Interview is an instant classic, and when the great Ms Olivia Rodrigo wrote the lyrics "But, God, when I look at you...My brain goes ahhhh. Can't hear my thoughts (I cannot hear my thoughts)" for her latest hit, we're convinced it was about the lethal combination of seeing these photos of "Red, White & Blue'' star TZP's face and Paul Mescal's gloriously graying hair all in one day.
---