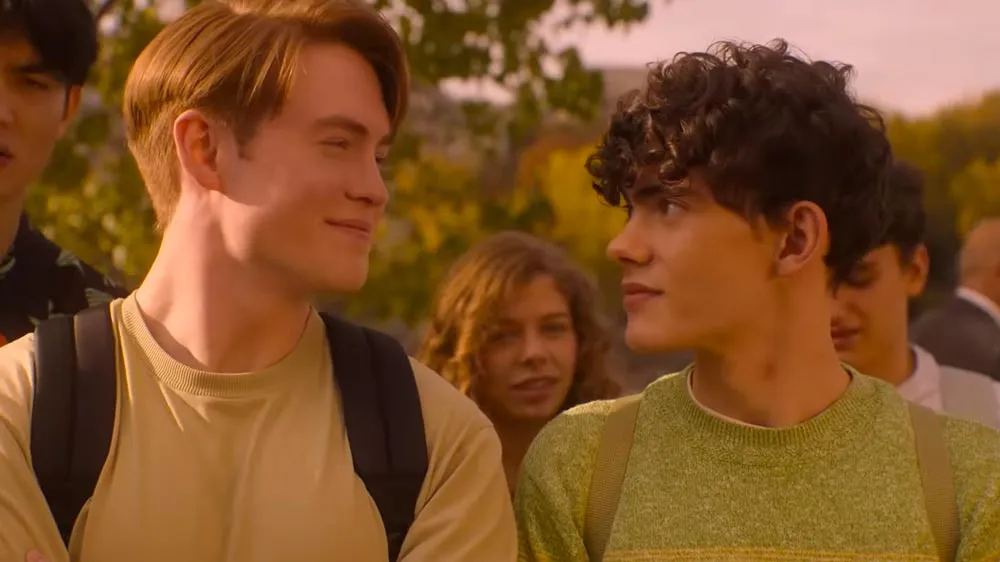 Meet the Stars of 'Heartstopper' Season 2
It's absolutely vital for LGBTQ+ kids and adults alike to be able to see themselves in the TV shows and movies they watch. Queer programming is starting to become more mainstream than ever before, thanks to the popularity of shows like "Heartstopper." The first season of this Alice Oseman graphic novel adaptation became a worldwide phenomenon last year, and the Netflix series is finally returning for a second season on August 3.
The story follows British teenage boys Nick (Kit Connor) and Charlie (Joe Locke) as they discover their feelings for one another and navigate their first same-sex relationship. Important themes like loneliness, biphobia, bullying, and anxiety are touched upon with grace and even light-hearted humor, resulting in a triumphant series for all ages.
Before the second season starts, it's a good time to take a look at all of the beautiful actors who portray these characters in "Heartstopper." Unlike many other LGBTQ+ shows, this series has plenty of real-life representation with actors' sexualities matching their characters' sexualities. Let's learn a little more about this talented and fearless cast!
Kit Connor
Arguably the most famous actor from the show, Kit Connor, is a heartthrob that has taken the world by storm with an honest, humble demeanor and an attractive smile that always catches eyes. He plays Nick Nelson in the show, a bisexual student who is slowly realizing his love for his friend, Charlie Spring. Connor has previously been a child actor who starred as young Elton John on "Rocketman." He publicly came out as bisexual in October 2022 after he felt fans were pressuring him to disclose his sexuality. The story is an indictment of the way people feel the need to know everything about their favorite actors, and it serves as a warning not to pry into people's personal business.
Joe Locke
Joe Locke is a kind, outgoing actor from the Isle of Man who has embraced the responsibilities of being "Heartstopper's" lead actor. Locke plays Charlie Spring in the show, a gay teenager who falls in love with closeted bisexual classmate Nick Nelson. Locke has been an outspoken advocate for LGBTQ+ people, is openly gay in real life, and will be starring in Marvel's "Agatha: Coven of Chaos." Locke and co-star Kit Connor are friends in real life and have attended several Pride events together since the start of the show!
Sebastian Croft
Sebastian Croft is as likable in real life as his character is dishonorable in "Heartstopper." Croft plays Ben Hope, Charlie's first boyfriend, in the beginning episodes of the series. Ben is closeted and doesn't want the world to know he's dating Charlie, leading to him bullying Charlie and being abusive. In real life, Croft has done voicework for "Hogwarts Legacy," one of the most popular, yet controversial, games of the year. His endearing smile and charismatic personality have made him a fan favorite.
William Gao
William Gao plays Charlie's best friend, Tao, in "Heartstopper." The character mostly serves to support Charlie's ventures in the story, but he does have a hinted romance with Elle later in the first season. In real life, Gao's sexuality is unknown, but he is very supportive of his co-stars and goes to Pride events in England.
Yasmin Finney
Yasmin Finney is one of the most prominent trans women on TV today! She plays transgender character Elle in "Heartstopper," inspiring an entire generation of youth struggling with their gender identity. During a time when legislators are attacking the rights of transgender people all over the world, seeing Finney celebrate her beauty in front of the world is vital.
Kizzy Edgell
Kizzy Edgell plays Darcy Olsson in "Heartstopper." Their character makes friends with Nick, Charlie, and others throughout the first season, including a romance with Tara (more on her later). In real life, Edgell uses they/them pronouns and proudly celebrates her gender identity for young fans to be inspired by her confidence.
Corinna Brown
Corinna Brown plays Darcy's girlfriend, Tara, in "Heartstopper." The Netflix series is her first big role in a show or movie, but she still has plenty of experience in the entertainment industry as a dancer! Her chemistry with Edgell in the show allows for some awesome side storylines to the main plot of the series.
---