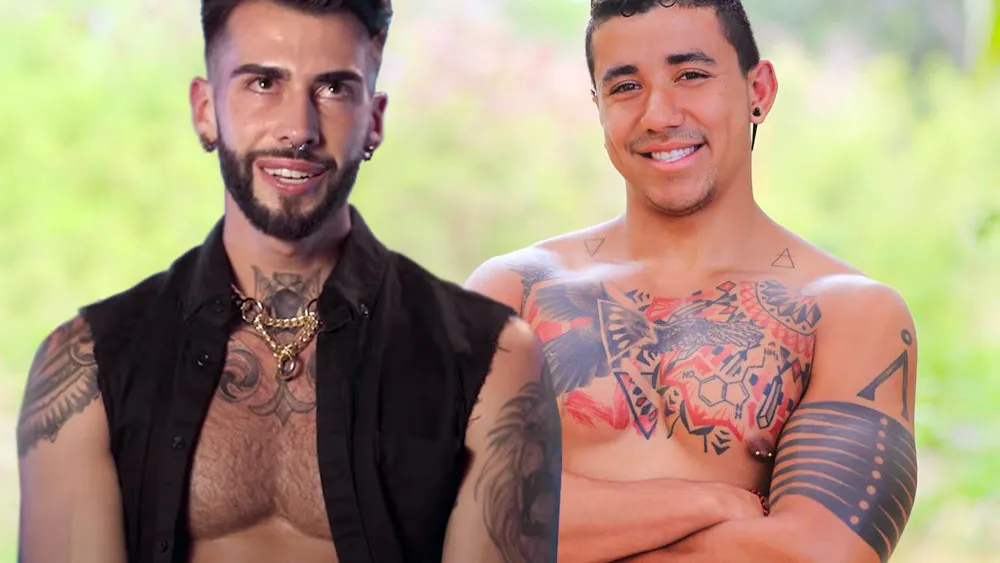 Queering Television: The Good & Bad of LGBTQ+ Dating Reality Shows
If Bravo is the pinnacle of modern reality television, then MTV and VH1 are its touchstones. There was a time when reality TV began and ended on those channels, and one might argue they put the LGBTQ+ community on the televised map. We are going to delve into those shows; both the good and the bad.
In 1992, MTV was in the midst of redefining itself from just a music video network to an entertainment variety channel. One of their first projects was "The Real World" a show about seven strangers sharing an apartment in New York City. It was a huge success and, in Season 2, the network moved a new group of seven people into an apartment in San Francisco. One of the cast members was Pedro Zamora, a 21-year-old gay man who was HIV positive. Zamora died of complications due to AIDS in 1994 not even a year after his time on the show.
The amount of visibility Zamora brought to the United States about the gay community, especially educating the country about HIV/AIDS was historic for American viewers. Reality television was born but as much good as the genre did for the community it also ushered in an age of what was, and still is, called "trash TV," and MTV was about to double down on the phenomenon they created and even turn love into a competitive sport.
In the 1960s a show called "The Dating Game" premiered and would go on to air for 56 years. Straight single people (there were never same-sex couples) would ask racy questions to three other singles hidden behind a panel. The winner would go on a date with the primary contestant.
But that all changed in 2007 starting with Tila Tequila. Below are some of the most noteworthy same-sex dating reality shows. Some are notorious for being trashy while others are more subdued. But what they all have in common is representation and whether that is good or bad, it matters.
"A Shot at Love with Tila Tequila" (2007)
Taking a page from the playbook of "The Bachelor," MTV decided to create its own brand of competitive matchmaking and it would start by casting an internet celebrity. In 2007 there was only one social media platform that mattered: MySpace. And only one person on that platform could boast that she had the most followers: Nguyễn Thị Thiên Thanh, or as most people knew her, Tila Tequila. The gimmick for the show was clear: "1 Bisexual Bachelorette, 16 guys, 16 girls."
The show was controversial at the time but it was designed that way. They reduced Tila to a thirst trap, and overly sexualized what it means to be bisexual. MTV made sure there was plenty of alcohol on hand to fuel the drama. A cast of predatory dude-bros lusted after the social media star in inappropriate ways while the lesbians were reduced to erotic "lipstick" tropes. The show was immature and irresponsible. But it did manage to get renewed for a second season.
"Finding Prince Charming" (2016) Logo
Although "Finding Prince Charming" wasn't as bad as "A Shot at Love" it had its moments. This dating reality show premiered on Logo in 2016. Robert Sepúlveda Jr. is the handsome bachelor of the title, and he must navigate through 13 good-looking men to find his match. Sepúlveda is a little less sensational than Tequila but that didn't stop the drama. In the end, "Finding Prince Charming" never quite felt genuine, nor did it do anything to elevate the genre, but it did allow gay men to claim a dating reality show as their own.
"Are you the One? Come One Come All" (2019) Paramount+
MTV (now owned by Paramount) turned its hetero dating show "Are You The One?" into another reality show based around bisexuality for its eighth season, called "Are You the One? Come One Come All." But unlike Tia Tequila 16 years prior, the queer community has grown to represent all identities. "I'm a queer, transmasculine, non-binary human who has chosen to medically transition," says one contestant named Kai.
In this show, 22 queer singles live in the same house and are filmed while trying to find their perfect matches. These types of shows that throw all different personalities into one house together and label it as "matchmaking" don't seem to want to follow their own prompt. Instead, they want housemates to clash, creating trainwreck situations that are better for ratings. Unfortunately, pitting queer folks against each other for the world to see does more harm to the community than help it. Still, GLAAD honored this season with a Media Award in 2020.
"Vanjie: 24 Hours of Love (2022) WOW Presents Plus
Things that live rent-free in our head? How about "Miss Vanjieee...Miss Vaanjieeee!" After her appearance on Ru Paul's Drag Race Vanessa Vanjie Mateo would go on to do her own dating reality show. There is nothing really special here except for a couple of cameos from famous drag queens and Vanessa's awfully judgmental mother.
"Ex on the Beach" Season 5 (2022)
MTV strikes again with its dating reality show twists. "Ex on the Beach," puts sexy men and women into one house again, but the gimmick here is they are joined by their exes. Confrontation is practically built into the schema. In season five we get seven queer representatives, including a trans woman. Again, there is absolutely nothing elevated about this show. At its heart, it revels in pain and anger. Still, the Schadenfreude levels are off the charts and if you love trainwreck reality TV this might be your jam.
"Next" (2005-2008) MTV
Yet again, MTV tries to flex its diversity muscles with this abysmal "unscripted" show. This is perhaps the worst offender when it comes to stereotyping gays. It's so bad you can tell straight writers wrote the lines based on their interpretation of the community. "With this ass, I'll definitely last longer than a minute," says one gay contestant as he poses like a teapot in one shot. "I'm Christopher and I'm gonna win, cuz I got a dick like a giant Sequoia." This goes on for about 15 minutes.
"Dating Around" (2018) Netflix
Although the genre hasn't been perfected, Netflix does its best to represent gay dating as just another thing people do in the real world. With no theatrics, no forced dialogue, and no excessive drinking, "Dating Around" follows five singles on their blind dates. In a time when hook-up apps seem to be how people meet, it's refreshing to see real interactions, talking about tangible topics while still being organically awkward.
"For the Love of DILFS" (2023) OUTtv
OUTtv is steadily becoming the go-to for offbeat reality television and "For the Love of DILFS" is no exception. Two groups: one made of "Daddies," the other of young "Himbos" are placed in a villa where they co-mingle in an effort to pair a person from one group with one from the other. What makes this show shine is its representation. Contestants are all shapes and ethnicities. There is some infighting and drama, but it doesn't capsize because of it. It is equally heartfelt as it is sensational.
"Ultimatum: Queer Love" (2023) Netflix
MTV is the immature cousin to Netflix when it comes to dating shows. And "Ultimatum: Queer Love" is the perfect marriage of the two. The show has an outrageous concept, but its cast members are so real and mature that for once the audience is truly invested in the outcomes. In "Ultimatum: Queer Love" five couples made up of women and non-binary people are brought together. One is ready for marriage, the other is not. The ultimatum is that one person in the relationship says they will leave if the other doesn't agree to marriage. From there the couples break up and are paired with a different partner from the group and live together for three weeks. "Ultimatum: Queer Love" is the perfect balance of drama, breakthroughs, and mature conversations.
"Swiping America" (2023) Max
From Tia Tequila we come to "Swiping America"; the two shows couldn't be more opposite to each other. "Swiping America" takes four singles across the country in an effort to distance them from their regular dating pools in New York City. Two people are straight and two are gay. Krishnanand Kelkar (Kris) represents the gay male. "Swiping America" allows its audience to be a fly on the wall during the blind dates. This is the gold standard of dating reality shows. It never mocks its subjects or edits them to be a creation of the producer. It is heartfelt and relatable and even if some of the blind dates don't work out, the cast has a growing deep connection with each other. It's like "The Real World" meets "Dating Around."
---