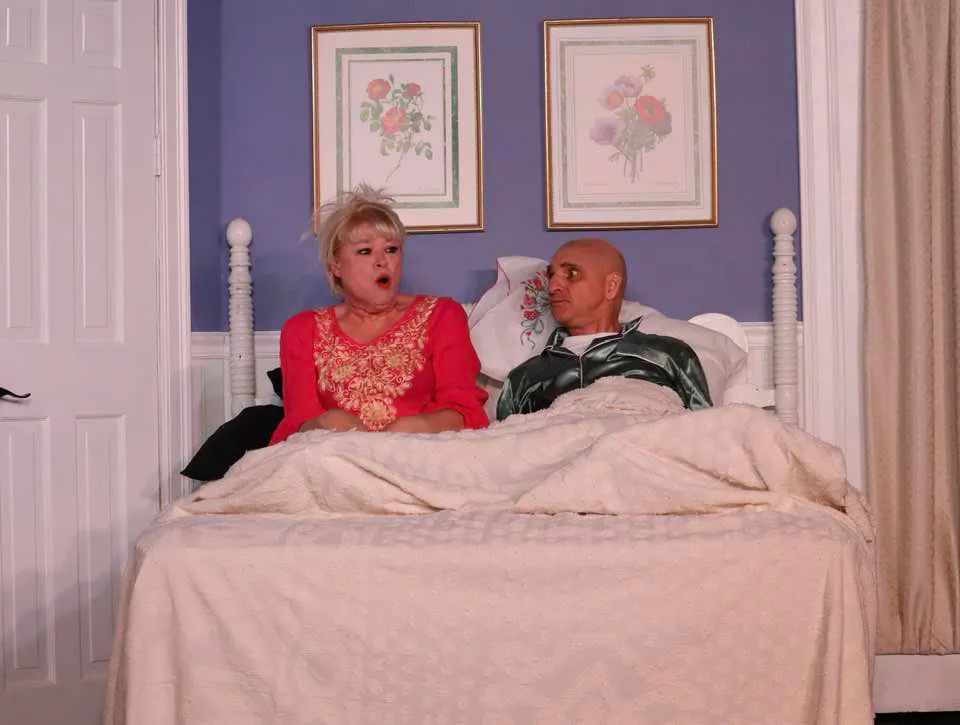 Review: Madcap Farce Runs in Circles
"There's a Burglar in My Bed" has all the ingredients of a madcap farce: Lots of misunderstandings, mistaken identities, sexual innuendos, and slamming doors. It's tailor-made for the Arctic Playhouse, which specializes in this type of show.
The Worthingstons, a wealthy Massachusetts couple, are having affairs. Ashley (Laurie Lavallee, substituting for Sandi Nicastro) is dating Edward Brookstone, known as "Teddy" (Bill Cabrera).
The couple hatch a plot to steal the priceless Worthington necklace and have it replaced with a fake. In order to motivate her husband, William (Ed Carusi), to seek a divorce, Ashley and Teddy hire a private detective to take photos of him in bed with another woman.
Meanwhile, William and his greedy fiancée, Buffy, also scheme to grab the necklace by staging a phony burglary.
It doesn't take long for the couples' plans to go disastrously awry. There are a lot of laughs as various combinations of characters end up in bed together.
After a solid and well-paced first act, "There's a Burglar in My Bed" quickly runs out of steam. The gags become repetitive, and the plot contrivances fail to move the story and the characters forward. Everyone ends up running around in circles.
Playwright Michael Parker makes the miscalculation of focusing on the expensive necklace instead of exploring the wacky relationships between these characters.
Ashley confronting William about his philandering could have allowed for some juicy comedy and drama. It never happens. We don't even get to see Ashley tearing into Buffy for trying to steal her husband away. It could've turned into a vicious catfight like the ones seen all the time on the '80s soap "Dynasty." How delightful that would have been!
There's no big battle between Teddy and William over Ashley. Why couldn't there have been a scene of them arguing? It's a major missed opportunity.
Director Anthony Annicone ("Social Security") is a master at handling actors, and gets some lively performances from his cast.
Cabrera, seen most recently in "Bedroom Farce," is infectiously funny as Teddy unsuccessfully fends off the advances of a seductress (Shaelyn Heroux).
As Buffy, Denise Izzi ("Social Security") brings her trademark zany charm as a gold-digging paramour.
Jim Mangiameli, making his Arctic debut, endures a series of physical tortures as the hapless and dimwitted detective William Davis. I hope Mangiameli seeks out a chiropractor after this show is over. He is knocked down, tied up, pushed, shoved, and gets his foot stuck in a bucket and a toilet seat wrapped around his neck.
Davis is also prone to utter malapropisms, a gag which is amusing at first but gets old quick.
The finale, which I will not spoil, features a clever bit of deception regarding the necklace. There's also a reconciliation that is intended to make audiences feel good, but the lack of buildup renders it meaningless and nonsensical.
Even in a silly comedy, there has to be recognizable human emotion. Without it, we're stuck watching a series of pratfalls and assorted lunacy without any consequences.
"There's a Burglar in My Bed" is very funny in parts, but finally just becomes exhausting to sit through.
"There's a Burglar in My Bed" runs through June 4. The Arctic Playhouse. 1249 Main Street, West Warwick, RI. For tickets, call 401-573-3443 or visit thearcticplayhouse.com.
---
Joe Siegel has written for a number of other GLBT publications, including In newsweekly and Options.