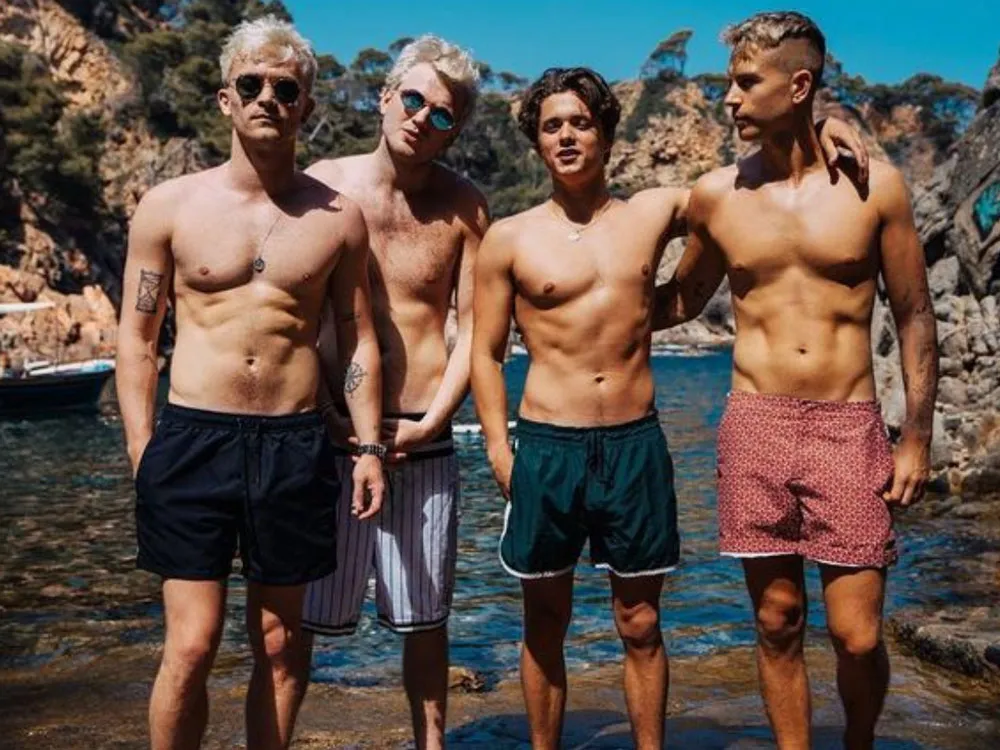 10 Modern Boy Bands We're Obsessed With
Two things don't last long: Milk and boy bands. Whether they be young and careless, or slightly older and cured by hindsight, boy bands are a gay pop culture staple. The trend goes in cycles; each decade has its own obsession. These past few years have been saturated with K-pop, but the 2020s have yet to produce a big act in the U.S. or U.K., no matter how fast "The X-Factor" can cinch contracts. But that doesn't mean they don't exist anymore; you just have to know where to look.
We are probably all familiar with the boy band cycle of the '90s and 2000s. Made up of mostly five young studs (figurative twinks, in gay lingo) living in a heteronormative universe where young impressionable women (and gay men) are easily manipulated by sadfishing and fake heartbreak, boy bands were the ultimate woo.
Today, these ensembles have shorter lifespans (One Direction and The Wanted), but they follow the same set of rules adjusted for societal progression. Normally there are still five heterosexual-presenting singers who sing catchy songs of love and loss to farm fans into supporting them with downloadable empathy.
But those rules have loosened over the past few years. For instance, the Jonas Brothers are a trio. Now it's okay to step out of your machismo to embrace a scintilla of diversity. Age is still a factor and the closer to puberty the better, but if you do well, you age well. Again, the Jonas Brothers prove that.
We found some modern boy bands who keep this dream alive. Some of these groups are from North America, and some are from Europe. A few have disbanded recently because of the pandemic, but the beauty of living in the technological age is that you can open your music app and get heartbroken all over again.
Pretty Much
Speaking of "The X-Factor," PrettyMuch is one of Simon Cowell's discoveries. Actually, the five members were doing solo careers until Cowell brought them all together to form the group. They consist of Brandon Arreaga, Edwin Honoret, Austin Porter, and Zion Kuwonu. Former member Nick Mara left the group in 2022. These guys embody the blueprint of the boy band. Their musical style is a blend of '90s pop samples with a hip-hop edge.
CNCO
CNCO is one of the most popular boy bands today. With a huge comparison to Latin acts such as Menudo and Magneto, the group is comprised of Richard Camacho, Erick Brian Colón, Christopher Vélez, and Zabdiel De Jesús. They are currently on a farewell tour; that's right, their fanbase has grown up and they are going their separate ways. In their lifespan, they have racked up some hits such as the dance club anthem "Reggaetón Lento (Bailemos)" and the mid-tempo "Lying," featuring Lil Tjay.
Why Don't We
With its rock/pop synergy, Why Don't We put out some great songs while keeping their boy band affectations. The quintet consists of Daniel Seavey, Jonah Marais, Corbyn Besson, Zach Herron, and Jack Avery. With obvious influences by The Wanted and One Direction, the band should have become more mainstream. Their by-the-numbers, Billboard-worthy "Just Friends" is as infectious as warm bubble gum.
In Real Life
Although their star burned brightly, it was brief. In Real Life was born from competition reality TV, specifically, the show aptly titled "Boy Band" on ABC. Brady Tutton, Chance Perez, Drew Ramos, Sergio Calderon, and Conor Smith were the winners, and their prize? A contract with Hollywood Records. This was actually a good combination, and their music was somewhat irresistible. In 2019, they dropped a hit and an f-bomb in "Crazy AF," but their "Tonight Belongs To You" is boy band Nirvana.
Next Town Down
With hip-hop bounce mixed with soulful ballads, Next Town Down made their mark as a POC modern boy band not duplicated since Boys II Men. Terence Thomas, Tre'von Waters, Christopher Louis, Malik Askari Knighten, and Leon Outlaw Jr., make up this group with enough swagger and chill to melt the panties off any fan. Sadly, thanks to the pandemic, Next Town Down disbanded in 2022, but their music lives on through the magic of YouTube.
Jonas Brothers
Having survived the unheard-of lifespan of a boy ban – nearly two decades – the Jonas Bros. continue to gain traction in a generation that has outgrown them. But these guys, Nick, Kevin, and Joe, are still going strong, collecting Gen-Z fans along the way. That might be because they took some time off to pursue solo careers but reunited in 2019. This hugely successful comeback only solidified their legacy in the music business. They just released a new record, "The Album," in May of 2023.
5 Seconds of Summer
Another boy band that has managed to stay together for over a decade is the Australian group 5 Seconds of Summer, or simply 5SSOS. Luke Hemmings, Michael Clifford, Calum Hood, and Ashton Irwin are aging gracefully right along with their music. Their aesthetic is still firmly set in the boy band universe, although they have dabbled in other musical stylings.
New Hope Club
British act New Hope Club is still going strong after eight years. Reece Bibby, Blake Richardson, and George Smith blend some singer/songwriter trappings in with their modern synth-snap beats to create a more mature, but no less catchy ,oeuvre. The trio was the opening band favorite for The Vamps.
The Vamps
Brad Simpson, James Brittain-McVey, Connor Ball, and Tristan Evans hate to be classified as musical archetypes, but they do embody much of what makes boy bands so appealing; they're all good-looking, they sing music with an upbeat tempo, and a lot of their stuff is infested with earworms.
COIN
With a mix of quirky rock, off-beat videos and '80s nostalgia, COIN can be loosely defined as a boy band, indie rock group, and performance art wrapped into one. Chase Lawrence, Ryan Winnen, and Joe Memmel make up this posse, originally from Nashville, and they have garnered quite a following in the last 10 years. The songs they sing lack the sync-pop beats sweetened with saccharine, but then again that's what makes them so popular.


---