Out Latin Artist _SANTI_ Heats Up Music World with 'PerreON'
Santiago Garcia, or _SANTI_ as he is known on social media, is taking the first steps toward his dream of being a well-known dance music artist with his latest Reggaeton-inspired song "PerreON."
Reggaeton is the stylized Latin sister of Reggae which incorporates traditional and familiar Caribbean beats with bomba and hip-hop, usually sung in Spanish. Mix that with traditional house music and you have some idea about _SANTI_'s style and vibe and what you can expect from his recent EP "ReggaeTech."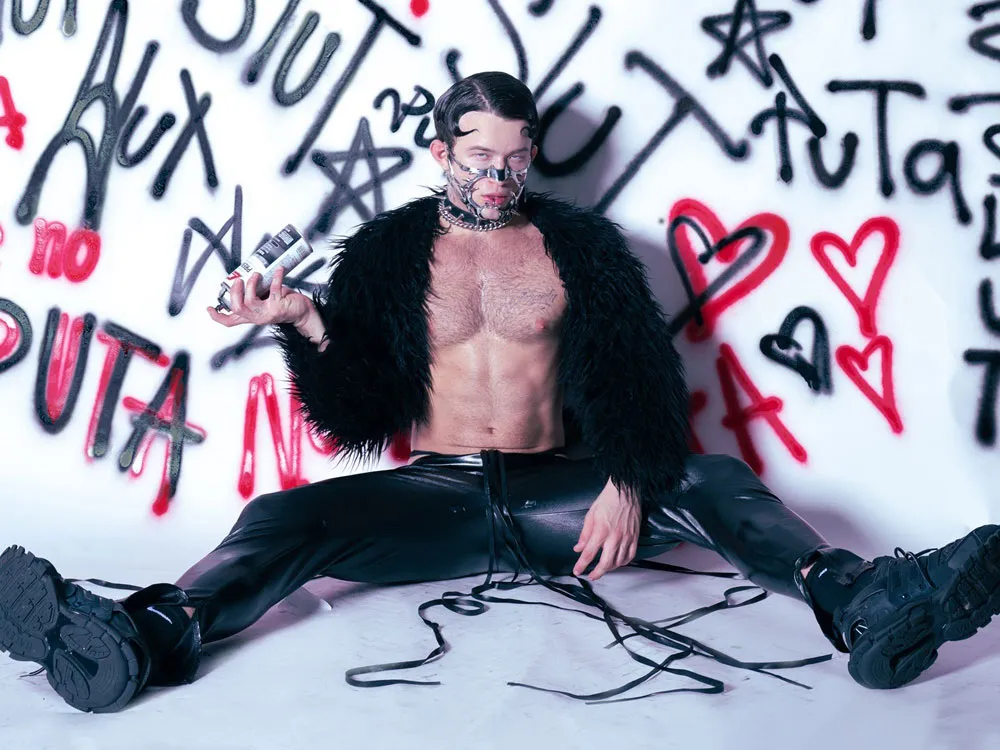 The music video for "PerreON" is a high energy bombastic celebration of queer Latin liberation forged in chrome. The music video was produced and directed by _SANTI_ and it shows many of his influences, such as the irreverent religious iconography used in many of Madonna's earlier videos.
"Definitely Madonna was a great inspiration for me," he says, having just arrived back home from a motorcycle ride. "I love artists that are really original and create art with their music videos and visuals."
With only $300 to his name, the 24-year-old Venezuelan native came to the United States when he was 18. He escaped the machismo and tyrannic reign of accused dictator, President Nicolas Maduro. America was a place to make new blueprints for the life he wanted to lead. Those plans always included being an artist, whether it be photography, fashion, or music. "I have many passions," he says. "I'm also a trained dancer. So, I really involve everything that I do into my music; I'm behind the whole creative process."
It shows. "PerreON" encompasses, in scattershot, all of his talents, creating an edgy glimpse into the world of urban creativity. The song is an homage to perreo, a style of dance that simulates sexual excitement when listening to reggaeton. This might not be what you would expect from a person who grew up in a predominantly conservative Catholic country. And that is his point.
Unapologetically grinding on other men in the video while wearing a crop top emblazoned with an image of the Virgin Mary is his way of breaking free of traditional beliefs and incorporating them into his own spirituality. "I don't take issue with religion. I respect our religion, but when it comes to art, I don't think anything is beyond limits to be represented or talked about in my music in the future."
He says he is a very fluid person, and his fashion choices indicate that, in particular, the Virgin Mary shirt in the video, "I wanted to create a Virgin that was kind of androgynous because, of course, it represents our culture."
The pool of Latin queer musicians is sparse. But there are a few. Perhaps one of the most noteworthy is Arca, a trans musician who also hails from Venezuela. That collective gets even thinner when it comes to gay artists. He thinks that gay Latin musicians are looked down upon more than any other identity within the business.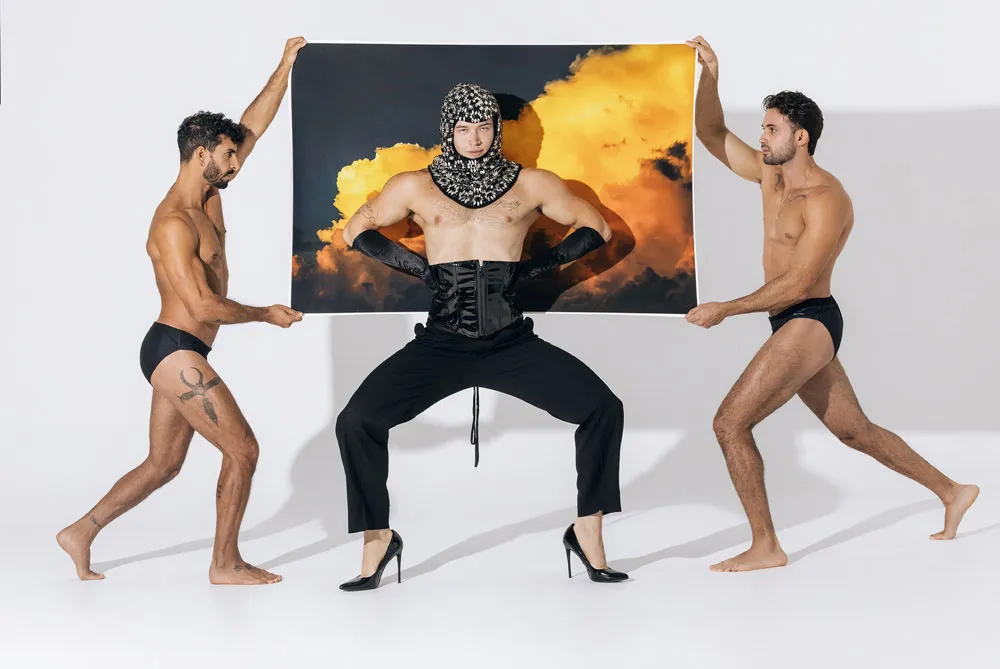 But that is not stopping him. He wants to create music that no one has ever heard before. He calls it, "fresh."
"I think I'm an original artist," he says. "I haven't seen any others that look like me or that represent the queer community or the Latin queer community."
Sex appeal is another aspect of _SANTI_'s persona that permeates through his music and videos. He says he is a very sexual person. And that side of him comes out when he is doing art. "It's also a part of me and I'm not afraid to show it. If it's too much for some people, it's OK. Like I'm not trying to please people. I'm trying to make what I think is beautiful."
There is no denying that he is a beautiful human being. You can witness that for yourself; his Instagram page is filled with photos of him in different stages of undress. In fact, he admits to also having an OnlyFans account, but don't get too excited. He says it isn't explicit.
Pelvic thrusts and erotica aside, the performer is getting a lot of support from his mother who also lives in Florida. He says she isn't being a helicopter parent about his choices. "She's my number one fan," he laughs, adding that she has been to many of his shows. "She's never judged me for anything that I've done. She loves the art that I'm making."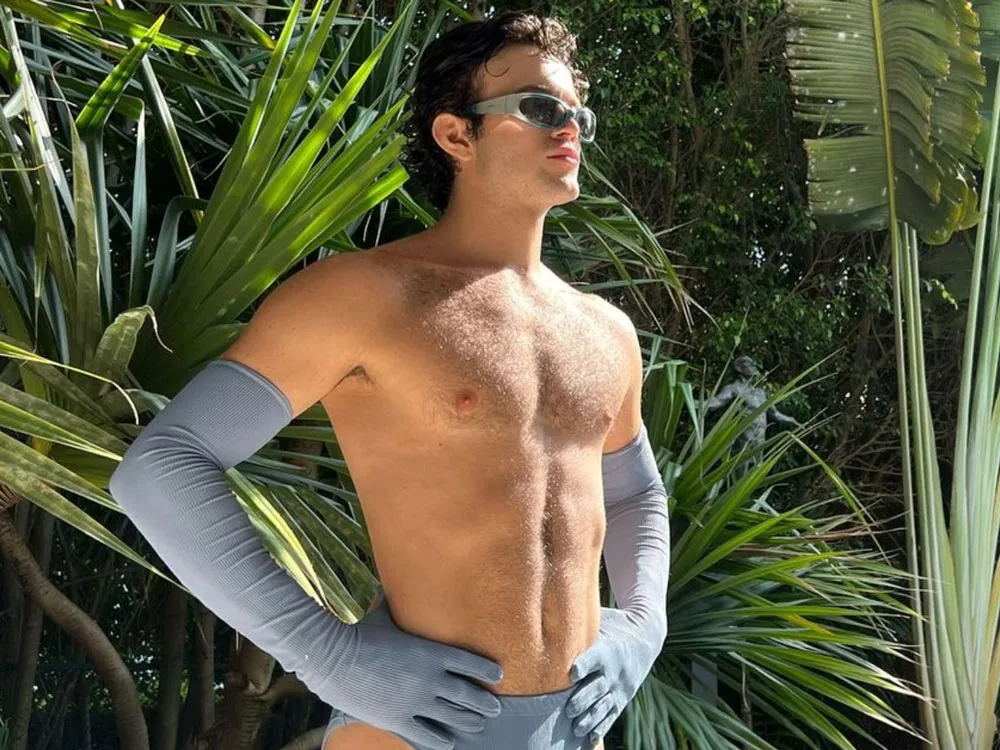 Along with music, the singer is also creating a fashion line called the Haus of _SANTI_. He says so far, the collection includes crop tops but will evolve into high fashion eventually. In addition to that, he produces a queer fashion party every month called OBBA (Only Bad Bitches Allowed). The inspiration for the event is his desire to create a "judgment-free zone," where queer people can express themselves freely. "Clubs are definitely a part of gay culture that is a safe haven for us to go and be ourselves."
Whether he is doing Spanish covers from Kim Petras' "Slut Pop" album, designing clothing from his upcoming collection, or producing his own music, _SANTI_ is taking a multidisciplinary approach to creativity. It seems there is nothing he can't do and pop culture is prepping for his arrival.
"That's what I really want to be – somebody that is making something different," he says.

For more on _SANTI_, visit his Instagram.
---