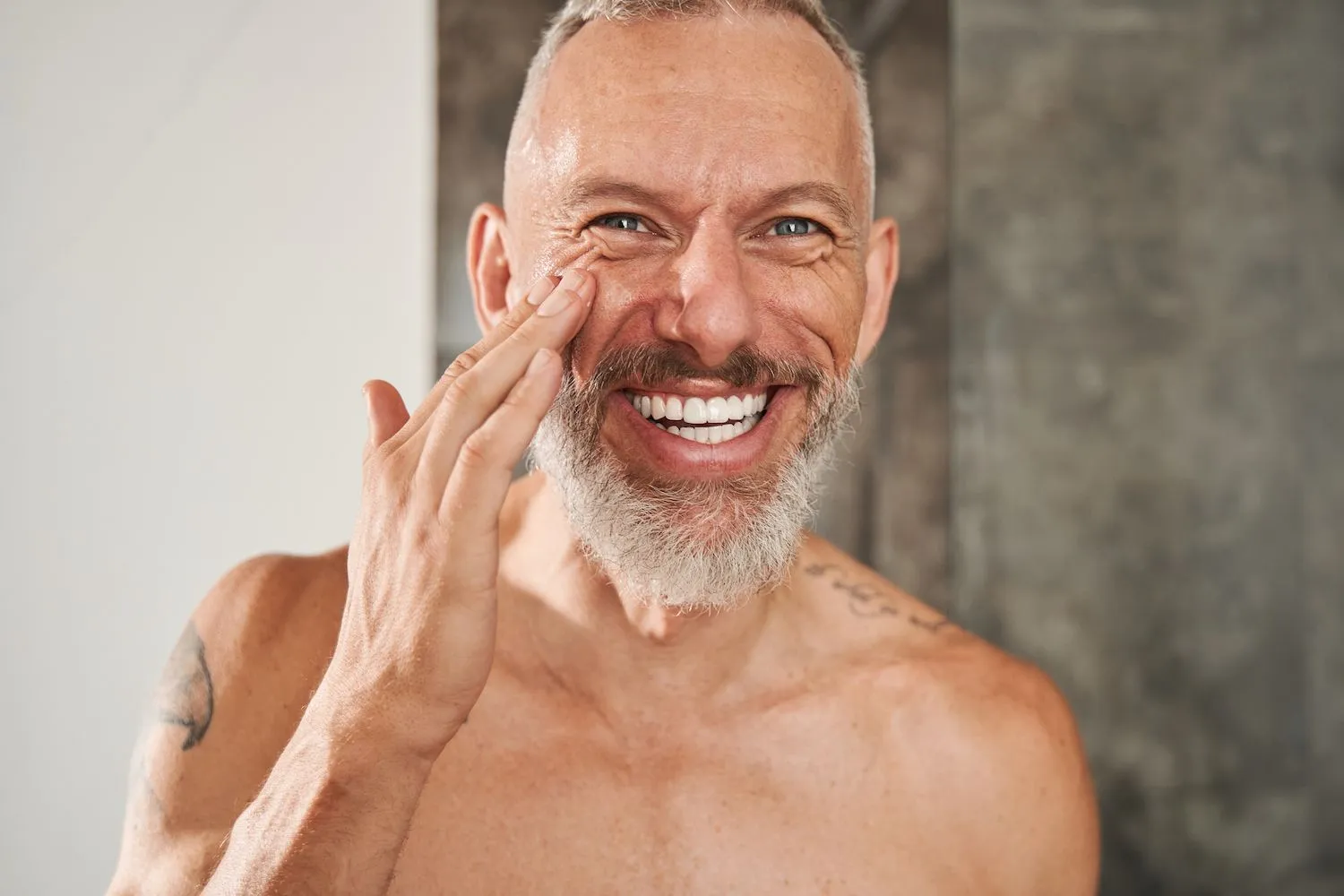 Why Briotech's Powerful Cleansing Products are Actually Good for Your Skin
The latest chapter of coronavirus has us all wondering if the pandemic will be as long as a Dickens novel. While it's understandable to be fatigued at the rollercoaster of variants and case positivity, a few simple but smart choices can make a huge difference in your daily self-care. Fortunately, Briotech, a global leader in HOCl technology and manufacturing, has a solution – actually, several.
Early on, we all scrambled to snatch up hand sanitizer, bleach, and other chemical-based cleaning products, but it didn't take long to realize that a virus-free home came at a cost: dry hands and irritated eyes and lungs were just a few of the harsh side effects. A 20-year study by the American Journal of Respiratory and Critical Care Medicine indicated that cleaning with bleach once a day is as damaging to your lungs as smoking a daily pack of cigarettes.
Briotech forgoes synthetic ingredients, instead harnessing the power of hypochlorous acid (HOCl), which naturally occurs in our bodies "as a defense system against infection, bacteria and general ickiness," according to the Cleveland Clinic.
Remarkably, HOCl is also incredibly mild. "It's great for sensitive skin," notes dermatologist Dr. Shilpi Khetarpal. "It's not going to give you the dryness, burning or irritation of other products [such as alcohol]." Because of its pH balance (which measures acidity), Briotech can be formulated for surface cleaning and air purification and topical skin products, too.
HOCl has flown under the radar for decades for several reasons. Companies couldn't patent the manufacturing technology, nor were there the computing capabilities for large-scale production. BrioHOCl is the world's first and only authenticated pure, stable and scalable HOCl.
It took a decade for Briotech founders Dan Terry and Cynthia Varela and their team to perfect the pure formulation, which contains no other active compounds, unlike other HOCl manufacturers. By producing various strengths and adding the simplest of all-natural ingredients when appropriate, Briotech's skincare line delivers a pure cleansing and rejuvenating option for all of your skincare needs.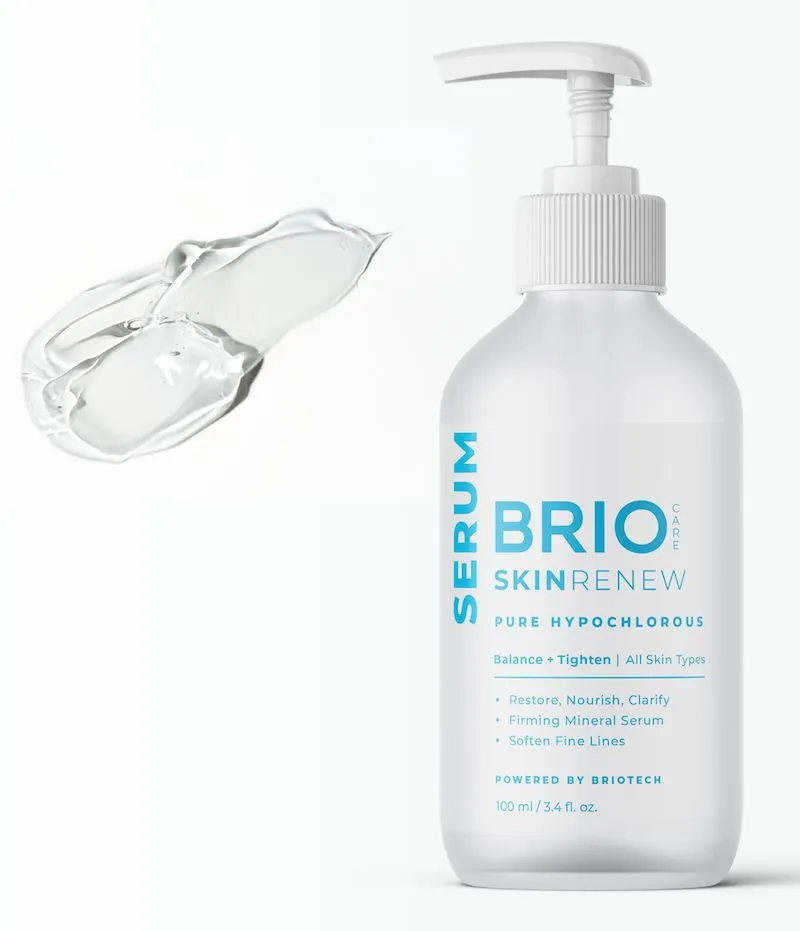 Two Must-Have Grooming Products for 2022
BrioCare Skin Renew Serum – Briotech's latest release delivers the power of HOCl in a brand new gel formulation. This firming mineral serum can tighten, clarify and regenerate skin around the face, neck, and chest without alcohol, oil, phthalates, sulfates, fragrance, or endotoxins. Combining HOCl with natural mineral clay creates a clean, absorbent application, leaving your skin restored and nourished without drying it out. And if you feel like the past two years have exponentially aged you, BrioCare Skin Renew Serum also softens fine lines that may have emerged from life's daily stressors.
The all-natural, vegan serum is particularly beneficial for aging skin. Whether you experience redness or are beginning to notice blemishes and dark spots, the serum will quickly become your go-to skin repair product without leaving any shine or residue. The clay content is fast-drying to optimize your daily skincare routine, and that subtle tightness (without any drying effect) will help brighten your complexion for a fresh-faced 2022.
When to Use: BrioCare Skin Renew Serum is gentle enough to use twice a day after cleansing and drying your skin. A dime-size amount is enough for your face and neck, and the product's purity makes it the perfect addition to your routine whether you're battling cold, dry winter weather or humidity and sunscreen residue during the warmer months.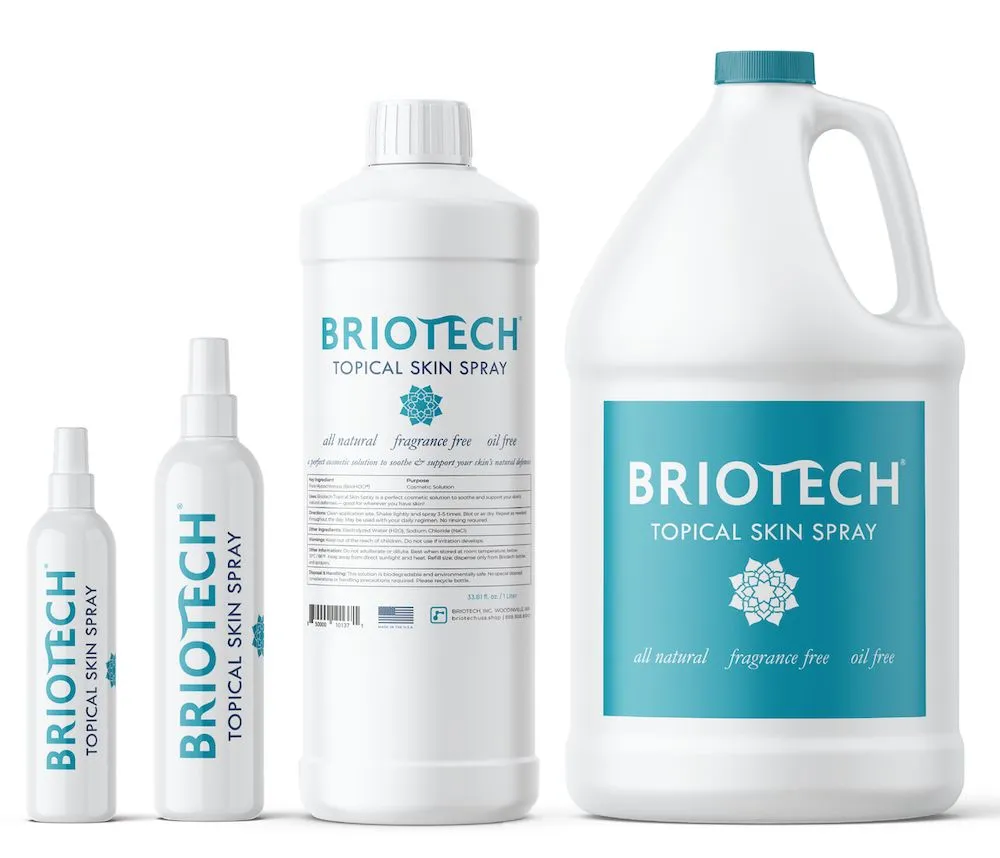 Topical Skin Spray – Does your skin routine need a recharge? Because HOCl mimics the essence of your body's natural defense system. Briotech's pure formulation offers many benefits, from gentle exfoliation and acne reduction to anti-wrinkle treatment and daily hydration. If you're on the fence about using a post-cleanser face mist or toner, consider Briotech's Topical Skin Spray to soothe and support your skin.
When to Use: One of our favorite Briotech products because of its versatility, the Topical Skin Spray is a must-have for your gym bag or dopp kit. No time for a post-workout shower? A quick splash of water and spray will soothe skin and reduce redness and irritation – perfect after you've been on shared gym equipment. Toss a travel size in your dopp kit or carry-on for a quick refresh on, during, or after a flight and get the double benefit of cleansing and the antimicrobial benefits of HOCl.

If the past two years have taught us anything, it's that simple, smart choices can make a world of difference. Why stock your home with a multitude of potentially toxic or environmentally damaging products when a few thoughtful picks can elevate your self-care to a level worthy of the New Year? So it's with good reason that Briotech is emerging as one of the best skincare products of 2022. Sometimes what we leave behind is as important as what lies ahead.
---