Boston Lyric Opera's LGBTQ-themed 'Fellow Travelers' Succeeds on Virtually Every Level
Maintaining a passionate commitment to contemporary works of the musical stage, Boston Lyric Opera is currently presenting an intriguing production of "Fellow Travelers," a work by composer Gregory Spears and librettist Greg Pierce. Fashioned after a 2007 novel by Thomas Mallon, the storyline chronicles the relationship of two, gay, government officials who fall in love during the notorious "Lavender Scare" of the McCarthy Era. As is the case with most modern operas, traditional melodic style is supplanted by continuous, speech-like declamation of the text. To compensate for the lack of sing-able tunes, such works require dramatic impact, as well as visual appeal to make an impression. In BLO's fine, imaginative production, "Fellow Travelers" succeeds on virtually every level.
The music of Spears is basically tonal and sonorous, with frequent, dissonant interaction between voice and accompaniment. It is hardly revolutionary, bearing stylistic similarities to that of Adams, Glass, and other contemporary masters. Yet, it was quite listenable and often suited the dramatic moment to perfection. There were a number of intricate ensembles, such as the powerful, Act 2 scene between the main character, Timothy, and his friend Mary–a duet that transforms into a trio when Tim's partner Hawk enters. One scene often dovetailed into the next in this manner, and these transitions were skillfully handled by director Peter Rothstein. His creative hand kept the work pulsing forward while maintaining consistent visual interest.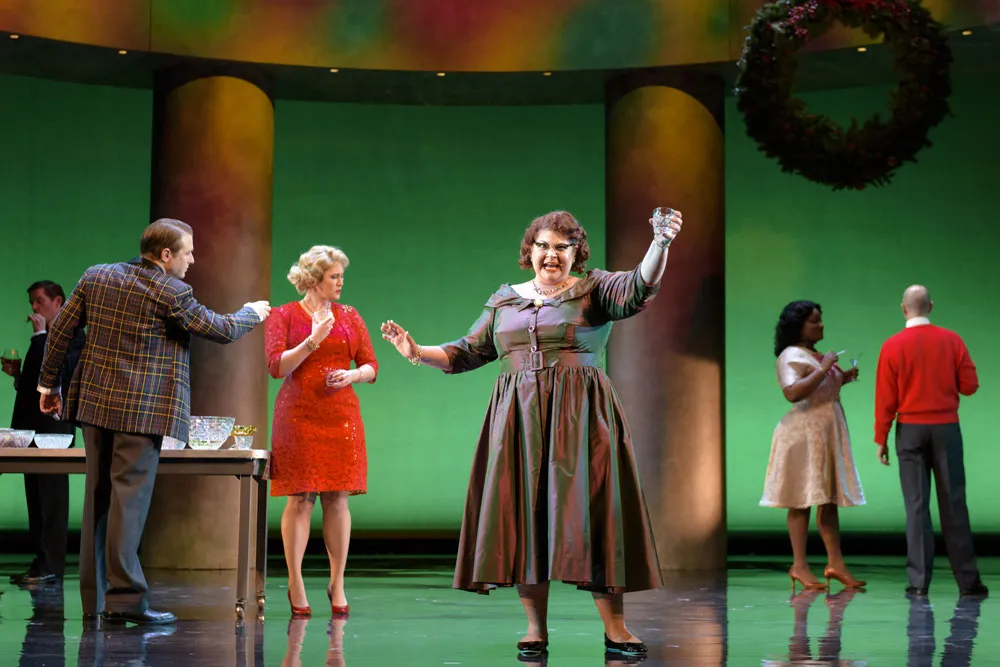 The Boston Lyric Opera Orchestra played exceedingly well under the direction of Emily Sentura, who obviously felt strongly about the work while being completely at ease in the idiom. The set designs of Sara Brown were quite effective, and, along with the costumes of Trevor Bowen, colorfully evoked the period of the mid-1950s. These were highlighted by the subtle lighting designs of Mary Shabatura, which skillfully suggested the specific mood of each scene. The aspects of the gay relationship between the two lead characters were handled with honesty and veracity. Throughout, the audience could sense the horrific fear the lovers endured, working for the government in the wake of Executive Order 10450, a policy that hunted down and fired gay and lesbian government employees. The opera succeeds as both a love story, and a recreation of an unfortunate phase in American history–and, most importantly, at inextricably integrating the two.
The singing and acting of the entire cast was top-notch, which contributed enormously to the success of this artistic achievement. Jesse Darden was ideally cast as Timothy, a young man from a strongly religious background seeking a government position, but finding his true sexuality after a chance encounter with Hawkins. Darden's supple tenor negotiated with fluid ease the often challenging vocal lines. Occurring after his first sexual encounter with Hawk, his extended, Act 1, church scene proved a highlight of the evening. His acting was quite natural, and he created a thoroughly believable and sympathetic hero.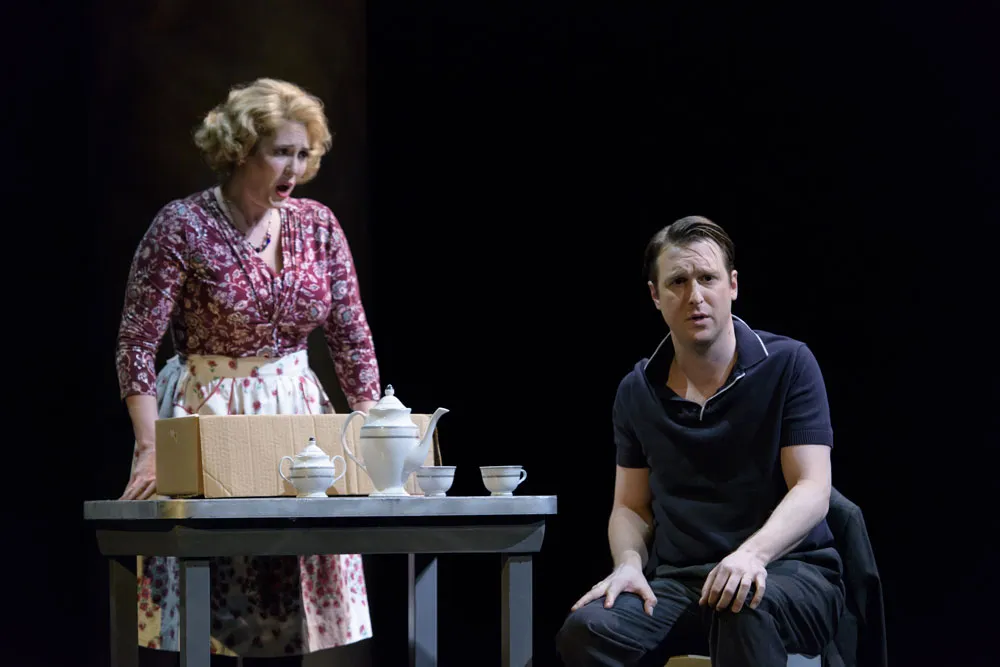 As the more experienced and psychologically complex Hawkins, Jesse Blumberg was equally fine. His warm round baritone contrasted well, against Darden's sweet tenor, and his acting was also excellent. He was equally convincing in his playful seduction of Timothy, as he was in his heartfelt Act 2 aria, which he delivered with true pathos.
The role of Mary, Hawk's secretary who becomes Tim's close friend and protector, was performed by Chelsea Basler. She is a welcome regular with the BLO at this point, and her impressive soprano is always a joy to hear, as it was on this occasion. Spears wrote challenging music for her character, with many wide, intervallic leaps, and high tessitura. Basler was up to the task and sang with authority and technical security. She acted wonderfully, facing dilemmas such as condemning Hawk for his betrayal of Tim and facing the prospect of her own abortion. Another of the opera's strongpoints was that it vividly portrayed, while not being judgmental about, the views of the period on the issues of abortion and gay rights.
In addition to its superlative staging of "Fellow Travelers," BLO must be credited for having the courage to present a large-scale, gay-themed, operatic work, and for treating the subject with dignity and compassion. There are two remaining performances at the Emerson Paramount Center, on Saturday evening, November 16th and Sunday afternoon, the 17th. Next March, the company will demonstrate its versatility by staging one of the blockbusters of the Italian Bel Canto, Bellini's incomparable "Norma."
Remaining performances of "Fellow Travelers" are Saturday, November 16 at 7:30 pm and Sunday, November 17 at 3 pm at the Emerson Paramount Center, Robert J. Orchard Stage. 559 Washington Street, Boston. MA. For more information, visit the Boston Lyric Opera website.
---