Gay New York City: The Latest
Hong Kong protesters flooded the city's streets on Sunday in defiance of a ban by the authorities on their march, setting up roadblocks and tossing firebombs amid the firing of tear gas by police.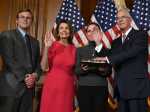 Florida Rep. Francis Rooney, one of the few Republicans openly weighing whether to impeach President Donald Trump, said Saturday he will not run for reelection.
Hillary Clinton's suggestion this past week that Hawaii Rep. Tulsi Gabbard is being "groomed" by Russians to act as a spoiler in the 2020 race may have had the opposite effect of what the 2016 Democratic presidential nominee intended.
Italian authorities have evacuated 4,000 people from the center of the northern city of Bolzano to defuse a World War II bomb found during construction.
As an architect, Thomas Jefferson envisioned buildings for a new republic — not old-world kings. The domes and columns in his designs recalled ancient Greece and Rome to symbolize liberty and democracy.
The Mexican city of Culiacan lived under drug cartel terror for 12 hours as gang members forced the government to free a drug lord's son, but in many parts of Mexico, the government ceded the battle to the gangs long ago.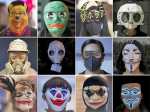 Winnie the Pooh, Guy Fawkes, Pepe the Frog — these are the new faces of Hong Kong's pro-democracy protest movement.
There is no Archibald Cox or Ken Starr to be found in President Donald Trump's impeachment. So it's up to Adam Schiff to build the case.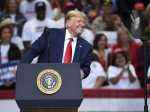 As President Donald Trump describes it, the U.S. swooped into an intractable situation in the Middle East, achieved an agreement within hours that had eluded the world for years and delivered a "great day for civilization." Not everyone bought it.
"For a whole year the Turks threatened us," Hanna said. "I kept saying we should escape, because with the Turks there is no security. But my husband always said there are Americans, Britain, France, and they won't abandon us."
The shifting White House explanation for President Donald Trump's decision to withhold military aid from Ukraine drew alarm Friday from Republicans as the impeachment inquiry brought a new test of their alliance.
New York City, NY
Fresh Fruit is back, inappropriately funny and timely as ever. The satirical drag cabaret group that entertained Boston audiences for thirteen years in the early 2000s has returned to help us deal with the world in the age of Trump.
Damon Lindelof didn't take lightly the challenge of adapting the most acclaimed graphic novel of all time.
French vintners are begging for government aid. Italian farmers are scrambling for new export markets. And American shoppers are about to face supermarket sticker shock on European products.

At least four people were killed and dozens injured Sunday after security officials in southern Bangladesh opened fire to disperse hundreds of Muslims during a protest over an alleged social media post undermining Islam's Prophet Muhammad, police said.

Under the Affordable Care Act, nonprofit hospitals are required to provide free or discounted care to patients of meager incomes — or risk losing their tax-exempt status. These price breaks can help people avoid financial catastrophe.
On the picket lines at a General Motors transmission plant in Toledo, Ohio, passing cars honked and striking workers celebrated a tentative contract deal by munching on 10 pizzas dropped off by a supporter.
They call it the Cosmic Crisp. It's not a video game, a superhero or the title of a Grateful Dead song. It's a new variety of apple, coming to a grocery store near you Dec. 1.

Health officials of Thursday said there have been 1,479 cases and at least 33 deaths in the mysterious outbreak.
Our essential guide for things to do on Oahu, from shopping and beaches to terrific restaurants and one of the best beachfront hotels.

Frank Ocean's Blonded brand is set to host a queer club night called PrEP+, so named for the HIV prevention drugs, and to imagine what the 80s would have been like if PrEP had existed then.