RuPaul's DragCon NYC, a three day celebration of everything drag, was held at the Jacob Javits Center. Fans of all ages were able to meet some of their favorite Drag Race girls, buy merchandise, listen to various panel discussions, and watch live shows.
Almost everybody is saying goodbye to summer, but Brüt took it to another level! Dan, Peter and Abel brought their party to a boat and cruised and danced the night away.
It was the girls turn to have some fun in the sun as Key West Business Guild presented the Womenfest Kickoff and Pool party held at Alexander's Guesthouse.
The police protection far outnumbered the marchers at the Straight Pride Parade in Boston, which really wasn't as much fun as its promoters promised. Not surprisingly, it was a small, but boisterous Trump rally.
SummerTramp, Southern California's only pop up swim party, joined DTLA Proud for a wet and wild time in the steamy LA sun! Cool drinks, hot beats and even hotter bodies made memories to last a lifetime.
For the fourth year, DTLA Proud brought LGBT Pride to the streets of downtown Los Angeles. The great weather brought people out to dance to the hot beats, support local artists and vendors, and to enjoy some great talent.
Jersey City had a blast celebrating Heritage of Pride at Club Six26. This amazing venue, with two indoor levels and two beautiful rooftops, had people gathering for a great time with friends while listening to the beats from DJ U-F-OSO.
Check out these great photos from Key West Tropical Heat. The sun was shining down as guests enjoyed the garden pool party held at the Bourbon Street Pub.
Island House hosted a great pool party to kick off this year's Key West Tropical Heat.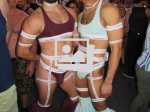 Market Days, The Boystown street festival, had many highlights with Mayor Lori Lightfoot joining Deborah Cox and Sheila E on the Bud Light Stage to dance, and Jake Shears from the Scissor Sisters shutting the night down.