Cracker Barrel says it won't host an event by a Tennessee church whose pastor was a detective who preached that the government should execute gay people.
A former Southern Baptist pastor who supported legislation in Texas this year that would have criminalized abortions has been arrested on charges of child sex abuse.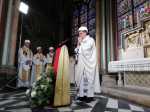 The archbishop wore a hard-hat helmet, burnt wood debris was still visible and only about 30 people were let inside, but Notre Dame Cathedral on Saturday held its first Mass since the devastating April 15th fire.
Only a couple of days after LGBTQ people in Florida and the world over marked the third anniversary of the Pulse nightclub massacre, a Florida church plans to put on a rally with the theme "Make America Straight Again."
New York eliminated the religious exemption to vaccine requirements for schoolchildren Thursday, as the nation's worst measles outbreak in decades prompts states to reconsider giving parents ways to opt out of immunization rules.
Confronting an unprecedented sex-abuse crisis, delegates at the Southern Baptist Convention's national meeting voted Tuesday to make it easier to expel churches that mishandle abuse cases.
Evangelist Franklin Graham took to Facebook over the weekend to thank President Trump and Secretary of State Mike Pompeo for banning U.S. embassies around the world from hanging rainbow Pride flags.
The Vatican has issued a document rejecting the idea that people can choose or change their genders.
The Southern Baptist Convention gathers for its annual national meeting Tuesday with one sobering topic — sex abuse by clergy and staff — overshadowing all others.
Remarks by the California attorney general regarding the arrest of the leader of a Mexico-based megachurch charged with human trafficking and child rape may have tainted a potential jury, defense attorneys said Friday.