Florida Church Plans 'Make America Straight Again' Rally for Two Days After Pulse Massacre Anniversary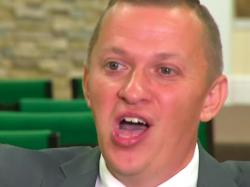 Only a couple of days after LGBTQ people in Florida and the world over marked the third anniversary of the Pulse nightclub massacre, a Florida church plans to put on a rally with the theme "Make America Straight Again."
The Pulse nightclub massacre, which took place on June 12, 2016, in Orlando, Florida, was the worst episode of gun violence up to its time, with a single armed man dealing out death for hours as local police held off storming the premises. In the end, Omar Mateen murdered 49 people — most of them LGBTQ and many of them LatinX — and injured another 53 individuals. Political leaders sidestepped the fact that Pulse was a gay night spot and redacted mention of the gay community in their responses, further driving home a message of marginalization that LGBTQs heard — and continue to hear — loud and clear.
Anti-gay religious leaders went even further, though, with some — like Steven "Kill the Gays" Anderson of Tempe, Arizona, whose intensely hatful rhetoric has gotten him banned even from homophobic hotspots like Jamaica and Malawi, and earned him the honor of being the first person to be barred from entering Ireland — praising Mateen and wheeling out trite, tired, and untrue characterizations of that depicted the victims as "perverts" and "pedophiles."
Three years later, those same "Christian values" are more visible than ever, as a Tennessee law enforcement officer and pastor comes under investigation for promoting the notion that LGBTQs should be rounded up and summarily executed simply for not being heterosexual. Meanwhile, in the Florida town of Clermont — located only about 20 miles form Orlando — Revival Baptist Church prepares for a rally to "Make America Straight Again," a riff on President Trump's divisive 2016 battle cry to "Make America Great Again."
The rally is slated to kick off June 14 and run through June 16, reported local news station WFTV.
The church's pastor, Patrick Boyle, makes hate a primary talking point in his comments about the event. In a promotional video for the rally, Boyle railed against "sodomites,:" and declared LGBTQs to be advocating "filth," Newsweek reported.
News13 reported that Boyle also slammed LGBTQs for demonstrating during Pride month, saying that, "They are going to be out there protesting love, love, love — yet if we can make a compilation of the voicemails from these crowds," left in response to news of the rally, "it's all but love."
Added Boyle, "They hate us, and I don't have any qualms with saying I hate them."
Aside from Steven "Kill Gays" Anderson, Boyle's special guests are also slated to include Roger Jimenez from Sacramento, another pastor who conflates LGBTQ people with "rapists" and "pedophiles." On the same video promoting the "Make America Straight Again" rally, Jimenez offered these words of tender loving mercy:
"I'm not sad when pedophiles and rapists die. I don't shed a tear over it, because I know what they do."
Boyle reportedly requested a police presence at the event, even though it is taking place at secret location. The sheriff's department refused the request, media sources said.
"First, it appears as though the organization disparages homosexuals and will be targeting them during the group's conference this week," said a spokesperson. "Furthermore, the fact that the timing of this conference coincides with the three-year anniversary of the Pulse nightclub shooting in nearby Orlando did not go unnoticed by our staff. We felt as though the timing of the conference is in poor taste and we chose not to allow the group to hire our deputies."
Boyle denies that the rally was scheduled with an eye to the Pulse nightclub massacre. He said that he scheduled it for June because that is the month when LGBTQ Pride celebrations take place in many localities.
"It's their gay pride month in Orlando and they're out there advocating their cause," the man of the cloth said. "We have every right to advocate ours."
Comments on Facebook