Democratic presidential candidates will descend on Iowa next week to do something that Native Americans say doesn't happen enough: court their vote.
As a Democratic politician in deep-red Montana, Steve Bullock has long searched for a middle ground on guns. Now a presidential candidate in a party pushing hard for new gun-control laws, he still is.
House Speaker Nancy Pelosi said Friday the U.S.-Israel relationship can withstand the "weakness" of President Donald Trump and Prime Minister Benjamin Netanyahu.
The mayor of El Paso said President Trump called him a derisive term for Republicans deemed insufficiently conservative during a visit to the grieving city last week.
Would black voters be able to reconcile their conservative religious doctrine with voting for a gay candidate for president?
President Trump sought to reassure his supporters about the state of the U.S. economy despite the stock market volatility and told rallygoers in New Hampshire, a state that he hopes to capture in 2020, their financial security depends on his reelection.
Mauro Garza, the owner of popular gay night club Pegasus and Trump supporter, is running for a Republican Congressional seat in Texas.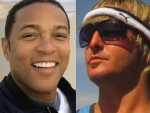 A Hamptons bartender has filed suit against openly gay CNN anchor Don Lemon, claiming that Lemon put his fingers under the bartender's nose after handing his own junk while asking the bartender about his sexual preferences.
John Hickenlooper will drop out of the Democratic presidential primary on Thursday, according to a Democrat close to him.
How New Hampshire receives the president on Thursday will offer a fresh test of whether people will give credit to Trump for the state's economy, base their decision on social issues or make their vote a referendum on the president's character.