1 thru 10 of 27365 Stories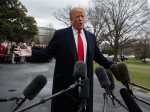 Special counsel Robert Mueller closed his long and contentious Russia investigation with no new charges, ending the probe that has cast a dark shadow over Donald Trump's presidency.
CNN's Dana Bash is learning the perils of doing personality profiles in a political city that's always on a war footing.
Within minutes of receiving notification that special counsel Robert Mueller had turned over his report on the Russia investigation, congressional Democrats were calling for the report to be fully released, including the underlying evidence.
Adult film star Stormy Daniels briefly appeared at the Illinois Capitol on Friday to protest the state's tax on strip clubs.
For Sean Hannity, the "witch hunt" was finally over. Rachel Maddow considered it the start of something.
Special counsel Robert Mueller on Friday turned over his long-awaited final report on the contentious Russia investigation that has cast a dark shadow over Donald Trump's presidency.
Barack Obama is feeling the love about the engagement of Jennifer Lopez and Alex Rodriguez.
Months after Microsoft, Amazon, and Apple dropped an app that allegedly shills so-called "conversion therapy," Google still provides the app a platform — despite the practice having been outlawed for minors in a number of states.
So much for those worries about rising interest rates.
The Federal Reserve sent a stark message Wednesday: The economy is slowing. And it won't be raising interest rates anytime soon.
1 thru 10 of 27365 Stories