1 thru 10 of 1065 Stories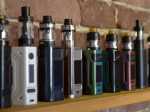 San Francisco became the first major U.S. city to ban the sale of electronic cigarettes after supervisors gave the measure its second and final vote Tuesday.
Activists who believe that New York City's massive gay pride parade has become too corporate are planning an alternative "Queer Liberation March" on the same day.
Indochino, the global leader in custom apparel, announced a partnership today with the Boston Red Sox in advance of its second Boston location opening in the bustling Seaport neighborhood.
On Wednesday, January 23 at 6pm, Gay Men's Health Crisis (GMHC) and The New School will host a forum for candidates running for New York City Public Advocate.
A light, steady rain did not deter about 500 people from gathering in San Francisco Tuesday, November 27, to mark the 40th anniversary of the assassinations of mayor George Moscone and supervisor Harvey Milk.
The wife and daughter of Vice President Mike Pence plan more stories about the family bunny, Marlon Bundo.
D.C. Councilmember Mary Cheh has introduced first-of-its-kind legislation to better protect and support LGBT elders and older people living with HIV in the District of Columbia.
California voters are right to think they already weighed in on how big cages should be for egg-laying hens.
Jeff Guaracino, co-author of "Handbook of LGBT Tourism and Hospitality: A Guide for Business Practice," has been appointed Visit Philadelphia's new president and CEO.
Unhealthy air filled with smoke from wildfires blanketed the Northwest again on Wednesday. Washington state had the worst air quality in the country, according to the National Weather Service.
1 thru 10 of 1065 Stories