Lesbian Astronaut Embroiled in Allegations of First Space Crime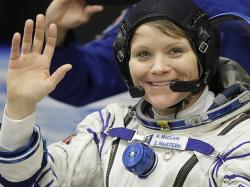 A lesbian astronaut going through a rancorous divorce has been accused of her ex of committing misdeeds, including identity theft, from orbit, the New York Times reported.

Anne McClain found herself accused of crimes by estranged wife Summer Worden, who once was an Air Force intelligence officer, the Times article said. Worden found that there had been activity in her bank account that had originated from a NASA computer. It turned out that McClain had accessed Worden's bank information from Earth orbit while stationed on the International Space Station.

Worden has filed complaints against McClain, including allegations of identity theft. But McClain has responded that her activities were innocuous and routine; she was, she says, simply doing her accustomed part to keep track of the family finances.

Worden took her complaints to the Federal Trade Commission as well as to the inspector General of NASA, Space.com reports. Meanwhile, according to McClain, the banking activity had nothing to do with any underhanded deeds and was part of McClain's ongoing financial contribution to the family - which includes a child that Worden brought into the family from a previous relationship.

Space.com noted that the couple's fractious history included disagreements about McClain becoming a legal guardian and adoptive mother to the child, as well as a claim pf assault against Worden by McClain in 2018. The Times reported that the assault charge was later dropped, but seems to have precipitated the divorce proceedings, which Worden initiated.

Worden claims that the assault charge was fabricated by McClain in an attempt to win custody.

Various media outlets, including the New York Post, reported that Worden's complaints were made right before McClain was scheduled to take part in an historic all-female space walk mission that would have happened in March, had McClain not been taken off the space walk. NASA said that the change of assignment was unrelated to Worden's claims, but rather the result of there not being two space suits available in the women's sizes.

If, however, Worden's claims are found to be valid and criminal charges follow, this would mark a very different, and perhaps even more historic first: The first time a crime had been committed in space.
Kilian Melloy serves as EDGE Media Network's Assistant Arts Editor. He also reviews theater for WBUR. His professional memberships include the National Lesbian & Gay Journalists Association, the Boston Online Film Critics Association, The Gay and Lesbian Entertainment Critics Association, and the Boston Theater Critics Association's Elliot Norton Awards Committee.
Comments on Facebook