1 thru 10 of 1306 Stories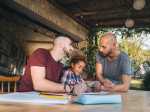 Michigan Attorney General Dana Nessel is asking a federal judge to halt an injunction that lets religious-based adoption and foster care agencies refuse to serve LGBT couples.
Recently, a few studies looked into gay and lesbian populations and same-sex marriages to test if marriage is related to better health in these populations — and the evidence is mixed.
A Utah state lawmaker who filed a lawsuit that successfully overturned the state's ban on same-sex marriage is separating from his husband.
Ricky Martin and his husband Jwan Yosef announced that they are expecting their fourth child.
Religious-based adoption agencies that contract with the state of Michigan will be allowed to refuse to place children in LGBT homes under a preliminary injunction issued by a federal judge Thursday.
The most senior family judge in England and Whales ruled that Freddy McConnell, a transgender man who just gave birth, will have to register as his child's mother, categorically redefining the term mother. Read more about the landmark case here.
The report says unmarried partners are older, better educated, more likely to earn higher wages and more racially diverse than in the past.
Meet the vaping hoodie. This high school fashion mainstay — defined by a hood with drawstrings — is now available as a vaping device, ready to deliver a puff of nicotine (or marijuana) anywhere, anytime. Including in the classroom.
Female couples make up more than half of all same-sex households in the United States, but male couples dominate in cities with large gay populations.
A gay married couple in Maryland sued Thursday to challenge the State Department's refusal to recognize the U.S. citizenship of their infant daughter, who was born in Canada via a surrogate this year.
1 thru 10 of 1306 Stories