Gay New York City: The Latest
The president made a plea for the country to honor LGBTQ service members discharged under the Don't Ask, Don't Tell policy by passing the Equality Act.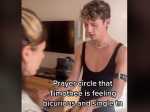 Out pop singer Troye Sivan shared a TikTok of himself praying before the Met Gala that "Call Me by Your Name" actor Timothée Chalamet is at least "bi-curious."
Jean Smart held back tears while accepting the best actress in a comedy series Emmy for her role in "Hacks," which she dedicated to her late husband.
Though we'd like to see more LGBTQ representation at the Emmys, major queer personalities (and nominees) attended the event, some making powerful statements with their red carpet looks.
The reality is breakthrough cases are becoming more common. Here's what I wish I'd known when those first symptoms laid me low.
Vice President Kamala Harris will visit "The View" studio on Friday for her sixth appearance on the daytime chat show — but her first as vice president. She'll answer questions about the pandemic, Afghanistan and other topics.
As the 2021 Toronto International Film Festival comes to a close, EDGE contributor C.J. Prince takes a look at a few more films along with the event's big awards, which are usually an Oscars indicator.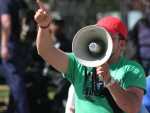 A viral video shows a group of high schoolers hurling anti-LGTBQ+ slurs during a rally against the school's GSA. Witnesses described the moment as "shocking" and "horrifying."
Lil Nas X's debut album "Montero" features a constellation of guest stars...and four petite, longtime artists have reached out looking to feature on his followup.
RuPaul added to his tally of Emmy awards on Sept. 19, giving him a record-shattering career total of 11 wins so far.
Pfizer said Monday its COVID-19 vaccine works for children ages 5 to 11 and that it will seek U.S. authorization for this age group soon -- a key step toward beginning vaccinations for youngsters.
"Midnight Mass" is horrific and beautiful in equal measure, and proves to be Mike Flanagan's masterpiece.
Aetna is being sued by a lesbian couple who allege discrimination because the company requires higher out-of-pocket expenditures before covering fertility treatment for non-heterosexuals.
An Australian entomologist has given the name Opaluma rupaul to a newly discovered species of soldier fly, a metallic-looking, rainbow insect he says earned the name for "serving fierce looks."
When the nonessentials threaten to put your finances in jeopardy, it's important to keep your financial goals on track. Here are five strategies to help you navigate impulse spending.

Which one of these hot hatches is the better buy? Edmunds' experts put the two speedy compacts head-to-head to determine a winner.
Michaela Jaé "Mj" Rodriguez in vintage Versace Atelier and Billy Porter wearing large wings were just the beginning of the Emmy Awards red carpet.
Don't worry if you are confused. Mask guidance has been mixed since the dawn of the pandemic, and new research has altered conventional thinking. We decided to dig in and sort out the latest developments.
A beach popular with gay men in Italy has been named the world's second-best spot for skinny-dipping.
This year's celebration of Carnaval des Couleurs will be a multicultural celebration filled with fun and activities.