Top Story
"When we're voting, it's easy to think it's just for a candidate or party we align with, but it's so much more than that," says Drag Out the Vote'...
1 thru 10 of 55949 Stories
Scientists have discovered the first nest of so-called murder hornets in the United States and plan to wipe it out Saturday to protect native honeybees, officials in Washington state said.
The world premiere of a documentary on Pope Francis was supposed to have been a bright spot for a papacy locked down by pandemic and besieged by a corruption scandal, recalling Francis' glory days travelling the world to bless the oppressed.
President Donald Trump's and Democratic rival Joe Biden's campaigns are assembling armies of powerful lawyers for the possibility that the race for the White House is decided not at the ballot box but in court.
Sen. Susan Collins of Maine has declared herself to be "truly grateful" for the endorsement of an anti-LGTBQ group in her home state.
Gus Kenworthy took to his Instagram Stories Thursday to show a nasty bruise he got on his backside after a "really stupid" ski accident he endured while in Switzerland.
Parents showed up by the dozen to weigh in on a Florida school district's proposed LGBTQ proclamation. Unsurprisingly, the proposal proved to be controversial.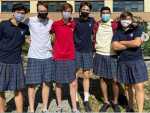 16-year-old Zachary Paulin decided to make a statement about the dress code at the school he attends, Collège Nouvelles Frontières in Gatineau, Quebec, which he saw as discriminatory.
During the final presidential debate, President Donald Trump claimed that 180 million people would lose their private health insurance to socialized medicine if the Democratic presidential nominee, former Vice President Joe Biden, is elected president.
In the final days before the U.S. election, celebrities from Kerry Washington to Billie Jean King and Danai Gurira are urging Americans to vote. Here are some of the free, nonpartisan efforts:
Moderator Kristen Welker — with the help of an offstage mute button — helped give Americans the substantive, crackling debate over leadership that had been missing so far during the 2020 presidential campaign.
1 thru 10 of 55949 Stories