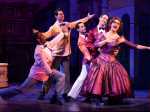 Santino Fontana stars in the musical version of "Tootsie," based on the film about an actor who disguises himself as a woman to land a leading role.
Downtown performance artist Taylor Mac (whose preferred pronoun is "Judy") has christened Broadway's Booth Theatre with a unique brand of quirk and activism, the likes of which have never been seen in such a commercial space.
James Graham's new play, "Ink," follows a young Rupert Murdoch as he purchases a struggling newspaper and sets out to make it a must-read smash that will destroy and horrify the competition.
Anaïs Mitchell's new musical, "Hadestown," intertwines to Greek myths into a timeless and breathtaking cautionary tale about the power of love.
Playwright Lucas Hnath reimagines the first month of the 2008 Democratic primary in his new play, "Hillary and Clinton."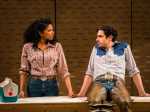 Like a high school reunion where you reacquaint yourself with old flings and someone actually looks better than they did before, the nipped and tucked "Oklahoma!" reboot deserves a page among The Best Plastic (Theater) Surgeons in America.
Kelli O'Hara and Will Chase star in the latest revival of "Kiss Me, Kate!" but the musical's romance and revelry only come alive from its leading lady.
Exceptional performances, supported by an ensemble that collectively exudes scintillating swagger, are nothing short of electric. You don't want to miss these men of Motown.
Joe Iconis and Joe Tracz's virally popular Gen Z musical finally arrives on Broadway. Does this latest teen musical make a lasting impression?
The brand new musical, "Bandstand" is a timely play with great dance numbers and songs.