Review: The A.R.T.'s 'Cinematic Reimagining' of 'Hype Man: a break beat play' a Fresh Blend of Music, Movie, and Theater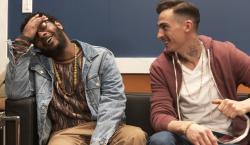 Idris Goodwin's "Hype Man: a break beat play" delivered a jolt when Company One premiered it in early 2018 at the Boston Center for the Arts. It was a play that felt necessary at the time, speaking powerfully to issues of race, policing in America, gender, and First Amendment guarantees protecting both artistic expression and the right to protest.

White hip-hop artist Pinnacle (Michael Knowlton) has labored for years to hone his writing. Best friends since childhood with hype man Verb (Kadahj Bennett) — who brings dazzle to their performances — Pinnacle hopes that their upcoming appearance on "The Tonight Show" will be the career-making moment that allows them to break into global stardom. The addition of beat-maker Peep One (Rachel Cognata) is the missing ingredient; with Peep now in charge of the beats that back Pinnacle's hooks and verses, doors are sure to open.

Unless those doors slam shut. After a local teenager inadvertently leads police on a high-speed chase because his grandmother has taken ill and ends up shot eighteen times, Verb is determined that they should use their appearance on The Tonight Show to speak out in the cause of "Justice for Jarrod." Pinnacle fears that saying anything controversial on national television would be career suicide, just when they're set to have big-time careers. Pinnacle insists that fame must come first, and then artistic freedom can follow; until then, it's necessary to follow certain formulae. In other words, social justice can wait. Verb, who's gotten himself into a better place thanks to therapy, doesn't see it that way. Peep One, reluctantly caught between the longtime friends, tries to keep the peace, but she has her own concerns, including Pinnacle's sometimes misogynistic lyrics.

Hard conversations follow — conversations that aren't only about race and justice, but about individuals with their own needs trying to do what they need to, without letting friends and artistic collaborators down. Can the three artists find common ground between themselves in the studio and on stage? In a fraught and hyper-charged America, is common ground possible anymore, either between individuals or between segments of society?

The play has only become more important, more urgent, and more truthful since its original production, which is why seeing the American Repertory Theater and Company One Theatre create this version - filmed at Oberon and given high production values - feels so right, the limitations imposed by the COVID-19 pandemic notwithstanding.

Theaters around the country have turned to streaming as a way to keep creating work, and the results have been mixed; it's impossible, after all, to capture the essence of live theater in a filmed (or even livestreamed) presentation. Wisely, directors John Oluwole ADEkoje and Shawn LaCount retain the original production's trio of actors; that's the essential first step. Every other choice flows from there, and while the challenges abound, so do inventive, creative opportunities.

Those opportunities have been well-judged and successfully met, from a meticulous sound design (the production's sound effects and music alike are terrific through headphones) to John Oluwole ADEkoje's cinematography (despite a few moments that have a slightly clumsy, TV sitcom feel), to a faultless editing scheme that looks nothing less than professional. The addition of green screen visuals (for abstract backgrounds during monologues), music video editing and visual style (during the musical numbers), and occasional animation effects (again, during the musical numbers) give the play the jolt of energy that brings it thoroughly into the realm of a cinematic presentation.

Live in the theater, Goodwin's dialogue and music, together with the cast's talents, created enough dynamism to fill the space with palpable electricity. This production doesn't settle for simply planting a camera and letting the actors do their thing; the directors know that streaming is a different experience to live, in-person performance and calls for a different approach. The beats remain fresh; the characters feel as real now as they did in 2018; and, thanks to a willingness to reinvent this work, the play remains supremely of the moment.


"Hype Man: a break beat play" is available for streaming April 8 - May 6. For more information and tickets, follow this link.
Kilian Melloy serves as EDGE Media Network's Associate Arts Editor and Staff Contributor. His professional memberships include the National Lesbian & Gay Journalists Association, the Boston Online Film Critics Association, The Gay and Lesbian Entertainment Critics Association, and the Boston Theater Critics Association's Elliot Norton Awards Committee.
Comments on Facebook