Hurricane Diane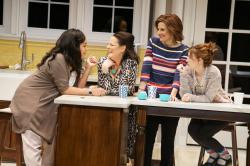 As playwright Madeline George would have it, the future of the planet as we know it rests in the hands four upscale women with identical kitchens and French doors opening onto gardens in their suburban New Jersey cul-de-sac. It's up to Dionysus to save the earth.
"Hurricane Diane," at New York Theatre Workshop in a co-production with WP Theatre, is a genuinely funny and surprisingly tender absurdist comedy. George, a Pulitzer Prize finalist for the even more fantastical "The (curious case of the) Watson Intelligence," has a unique voice — whimsical, yet substantive.
The ancient God of "agriculture, wine and song" arrives in New Jersey in the person of Diane, a butch transgender gardener, (Becca Blackwell) wearing a plaid shirt, khaki shorts and work boots. She's been living as a permaculture gardener in a consensus-based lesbian commune in Burlington, Vermont, but now, the time has come to save the planet by recruiting a "mini-cult" of new followers.
Speaking to the audience in colloquial, unGod-like direct address, Diane is a charming, outgoing deity, determined to persuade these four Monmouth County friends to abandon conventional notions of landscaping and focus on sustainability before it's too late. Diane is determined, and her arguments are persuasive — after all, the future of humanity is in peril. But she's not above seduction to achieve her ends. That she shows up at the exact moment a severe storm is heading up the coast is not entirely coincidental.
Will Diane succeed in recruiting the women to her cause, and save the planet? It won't be easy. She's met her match with the housewives of New Jersey.
Diane's first target is the tidy, repressed Carol (Mia Barron) who works "in compliance" for a pharmaceutical company. Her husband is never around, and she buries herself inside a Home and Garden TV Magazine in her smart, modern kitchen (Set Design by Rachel Hauck). Intrigued at first, Carol becomes less inclined when Diane suggests she rip out her perfectly manicured lawn and replace it with pawpaw trees.
Renee (Michelle Beck) is the successful editor at HGTV Magazine, and a former hippy and lesbian who encourages Diane's attentions. Beth (Kate Wetherhead) is bit of a kook, and an easy target. Her husband left her, and their yard has become a hayfield, to the dismay of her friends. She'd like to turn it into a magical place with "flowers that attract fairies." Pam (Danielle Skraastad) is a brash, aggressive Italian who, to the surprise of her less fulfilled friends, has sex with her husband every day "to keep from, you know — hating his guts." She wants Diane to turn her garden into a palazzo, like the one in a painting she admires hanging in Delfini's, a local deli.
In their smart, character-revealing costumes by Kaye Voyce, these New Jersey women, as directed by Leigh Sliverman, are portrayed in broad comic strokes. But there's tenderness in their friendships, and emptiness in their lives. That they're living in a cul-de-sac is clearly metaphorical. They need Diane to challenge their values and expose their fears.
Despite the weighty, urgent subject matter and all the talk of ecosystems, George's play is not a polemic. She writes witty patter, and has genuine compassion for her characters, played to the hilt by Barron, Beck, Blackwell, Skraastad and Wetherhead. The tone is light and breezy, until its Bacchae-like conclusion which provides Bray Poor (Sound Design) and Barbara Samuels (Lighting Design) an opportunity to create chaos.
While its characters are not equally well-drawn, and not every scene lands with the same impact, "Hurricane Diane" is a refreshing, mischievous work with darkness around its edges.
"Hurricane Diane" runs through Mar 24 at the New York Theatre Workshop, 79 E 4th St., New York, NY. For more information, visit the New York Theatre Workshop website.
Comments on Facebook