Auggie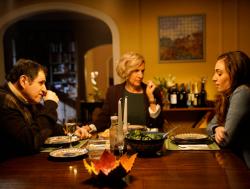 As a child, maybe your real world of dull day-to-day doings disappointed and life was lonely, filled with unfulfilled wishes, and friends were few and far between. Created commiserating companions - imaginary friends - solved the problem. So what's the (allegedly) grown-up equivalent in the modern world? Allowing some reliance on science fiction for friction, and settling into some unsettling emotional neediness, fans of fantasies and illogical psychological drama might be happy with the unhappy story of a sad sack named Felix and his "Auggie" - short for "augmented reality."
Is Felix's companion in his mind or in his sight? Well, both. Whenever he puts on a pair of special spectacles, he can suddenly see and talk with a doting dream-like figure. She is the personification of his psychological needs for nonjudgmental attention and understanding, ever supportive and accepting, radiating youthful optimism and joy. Hologram-like, in an array of conveniently weather-appropriate garb for outdoor scenes, she (only seen in close-up shots) can also converse - and seldom is heard a discouraging word. As this conjured confection, Christen Harper has the most alluring smile and twinkling eyes imaginable. But sexual longings aren't long in complicating and clouding the "picture."
Reality is a pesky thing. Alas, so is fantasy.
Long-married Felix is newly retired and not adjusting well to isolated days, while wife Anne is busier than ever at her new job with a doting male boss (sexual attraction plot number two). As fretting Felix, veteran likable actor Richard Kind doesn't get to use his formidable comedy chops, although he engenders sympathy as the increasingly burdened, bored fellow. The film lumbers along languidly as does its schlumping protagonist. He and Anne (Susan Blackwell) sigh heavily - a lot. Faces show hurt and worry, the two together but alone, sharing a bed, meals, chores, and a grown daughter, with their communication sometimes limited to "Are you OK?," texts, and semi-convincing habitual "I love you" reassurances. More sighs. More sad eyes. More thwarted feelings.
The Artificial Intelligence option and other escapes tempt, but they come with consequences. Reality is a pesky thing. Alas, so is fantasy. Director Matt Kane, who is co-writer with Marc Underhill, prefers lingering looks to articulate dialogue, but the cautionary tone is not quite "unspoken" in presenting values, choices, and underlying possibilities.
ROB LESTER returns to Edge in 2019 after several years of being otherwise occupied writing and directing musical theatre shows, working as a dramaturg, arts consultant, and contributing articles and reviews to various outlets. His long-running "Sound Advice" column covering cast albums and vocal CDs has been running regularly at
www.TalkinBroadway.com
for almost 15 years.
Comments on Facebook