Waves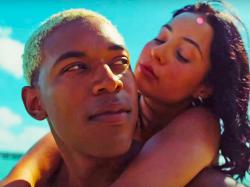 Trey Edward Shults' 2015 feature debut "Krisha" was a searing and painfully honest look at a fractured family. In his latest film, "Waves," that fracture splinters significantly as he explores race, class, parental pressure, and teen angst in a wildly cinematic feast that completely envelops the viewer.
The film is set in South Florida and, initially, centers on African-American 17-year-old Tyler (Kelvin Harrison Jr.), who is a star wrestler with a promising future. Tyler comes from an affluent family and has a girlfriend, Alexis (Alexa Demie), that he adores. But we slowly become privy to the pressures Tyler is under, beginning with a wrestling injury that he keeps from his well-meaning but intimidating father, Ronald (Sterling K. Brown), who expects his son to exceed everyone's expectations, including his own. His stepmother, Catherine (Renée Elise Goldsberry), has her own issues with Ronald, but supports Tyler in a loving manner.
"We are not afforded the luxury of being average," Tyler's father reminds his son, pointing out the obvious but somehow missing the fact that he is, ironically, raising his son to feel entitled, almost invincible.
In addition to his worsening physical ailment — as well as tensions at home and at school — Tyler discovers that Alexis is pregnant, and the two don't necessarily agree on the next step in this quandary.
Afraid to share any of the above with his parents, Tyler's world soon spirals in a fast downward spin, and — without giving away a huge spoiler — the movie shockingly twists and refocuses itself onto Tyler's shy young sister, Emily (Taylor Russell), and her sweet romance with the dweebie Luke (Lucas Hedges), who is going through his own familial crisis.
The two stories together have a redemptive quality that seem to be an appeal for understanding and forgiveness.
Shults knows how to write teen dialogue that sounds current, and the film has one of the most realistic teen arguments I have seen onscreen in eons (between Tyler and Alexis). But Shults' true genius is in the sheer power of his visuals, telling a melodramatic story in a cinematically potent way, and with deliberate detail and nuance so all the anxiety and bewilderment the characters feel register on their faces and in their body language.
The camera often sways back and forth in a dream-like kind of abandon, but with a sneaking foreboding, reminiscent of many a European film made in the 1970s. Credit director of photography Drew Daniels for taking us on the captivating journey that is punctuated by two mesmerizing, almost-bookended 360-degree filmed car rides.
The thrilling and dynamic score, by Oscar winners Trent Reznor and Atticus Ross ("The Social Network"), aids mercilessly in providing narrative tension.
The writer-director knows how to get the best performances from his terrific ensemble, beginning with the beguiling Harrison, Jr. ("Mudbound") who captures Tyler's downward descent in a maddeningly effective scene-by-scene manner. Brown is everyone's overbearing dad who demands perfection (I knew a few of these domineering fathers back in high school; they meant well, but damaged their kids beyond belief). Hedges is excellent as a son who must decide whether to forgive his father or possibly live with regret.
While "Waves" is seemingly about the tricky and messy relationships between fathers and sons, the film also exposes just how, regardless of race, women continue to be undervalued in our society, since they're barely heard in their own families and the lives of the people they love. Tellingly, all three of the female characters here are either badly mistreated or ignored. Yet, all three are the heart and soul of this film, and Goldsberry, Russell, and Demie give their stories the proper weight and balance, always reminding us that they matter, even if the men in their lives fail to see or acknowledge the fact.
The handling of the Emily character, in particular, is refreshing. In the hands of another screenwriter, this is the kind of role that might have gone in a much more predictable, damaged-by-the-sins-of-her-brother direction. Fortunately, Shults had a more layered and subtle approach in mind.
"Waves," which reminded me of the HBO series "Euphoria" in its portrayal of confused and isolated teenagers, can be an emotionally draining sit, but it's also one of the most exciting and cathartic experiences of the film year so far.
Frank J. Avella is a film and theatre journalist and is thrilled to be writing for EDGE. He is also a proud Dramatists Guild member and a recipient of a 2018 Bogliasco Foundation Fellowship. He was awarded a 2015 Fellowship Award from the NJ State Council on the Arts, the 2016 Helene Wurlitzer Residency Grant and the Chesley/Bumbalo Foundation Playwright Award for his play Consent, which was also a 2012 semifinalist for the O'Neill. His play, Vatican Falls, took part in the 2017 Planet Connections Festivity and Frank was nominated for Outstanding Playwriting. Lured was a semifinalist for the 2018 O'Neill and received a 2018 Arch and Bruce Brown Foundation Grant. Lured will premiere in 2018 in NYC and 2019 in Rome, Italy. LuredThePlay.com
Comments on Facebook