Greener Grass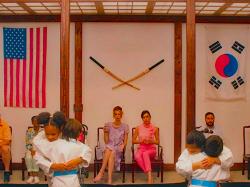 Gulp Splash productions and Vanishing Angle present feature-length film "Greener Grass" by directors/writers Jocelyn DeBoer and Dawn Luebbe. It is a David Lynch-meets-"Sweet Valley High" treatment of modern suburban lifestyle.

Based on a short film of the same name, "Greener Grass" gives depth to a cheerful, twisted '90s suburban community introduced to audiences in 2018. DeBoer and Luebbe are joined by a cast of stars that includes D'Arcy Carden ("The Good Place"), Dot-Marie Jones ("Glee"), Neil Casey ("Big Mouth"), and Beck Bennett ("Saturday Night Live").

"Greener Grass" is set in an unknown California town in which haircuts bleed, soccer balls are human babies, and golf carts are the only mode of transportation. Jill (DeBoer) is a passive housewife who seems to have it all. What Jill lacks in personality, she makes up for with a desperate need to please. It's her persistent need for others' approval that begins her downward slide into madness. It's a great social commentary on the pressure women feel to please others at the loss of their own identities.

When Lisa (Luebbe) congratulates Jill on her new baby after a youth soccer match played on unmarked graves, Jill re-mothers baby Madison to Lisa. Saying, "The baby, she's yours now," Jill gives the child to Lisa, who gladly takes Jill's baby, renames her Paige, and refuses to give her back. This is a normal exchange in this version of reality. It prepares the audience for the absurdities yet to come.

Jill and Nick's (Bennett) son Julian (Julian Hilliard) is an extra-sensitive, effeminate boy with no affinity for sports. Nick sees Julian as a failure. Jill tries to love him for who he is but Julian isn't making it easy. His public, rebellious outbursts are stressing his parents greatly. In one scene in which Jill and Nick tell him to go to bed, he inexplicably compares Jill to a school. "I am Mom. I'm full of classrooms. So many clocks in me," he said before marching to bed. Even Julian's rebellion is a failure.

This neighborhood is loudly heterosexual in a 1950s, patriarchal, gender-roled way. That Julian might be gay makes him a target for town ridicule. When Julian accidentally falls into a swimming pool at a barbecue and swims out a golden retriever puppy, the neighborhood is relieved. This community is more willing to accept a puppy than they are a smart boy with a unique personality. Nick feels great relief. Jill tumbles skip further down a path towards madness.

"Greener Grass" is a psychological drama with comedic elements. Sensitive viewers be warned that the third act includes a scene of self-inflicted body horror. In the thick of her madness, Jill attempts to empower herself by removing her braces without a dentist. The visual metaphor successfully reaches the audience, but Jill's character remains unchanged. Jill isn't empowered by her act, because she hasn't learned that a change in her appearance is not the same as internal development.

"Greener Grass" will be playing in some New York City and Los Angeles theaters beginning in October 2019. It runs 97 minutes and will be available on-demand through IFC films on October 18, 2019.
Comments on Facebook