Downton Abbey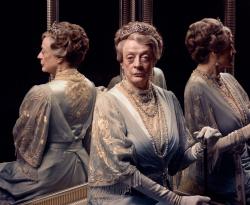 Available digitally today!

- - -

A film version of the uber-popular television series, "Downton Abbey" is a bit of delightful fluff for fans of the series, but won't be of much interest to anyone else.

It's been a few years since we last left our friends at the Abbey. Many have left the Abbey and moved on to different lives. There are so many characters to catch up with, the first 45 minutes of the film version does seem like we're just playing "getting to know you again" with some popular players getting a little shortchanged. Anna (Joanna Froggatt) has one line 15 minutes in, and then she's off-screen for a bit. Similarly, her husband, Mr. Bates (Brendan Coyle) is barely shown for the first quarter of the film. Odd for fan favorites.

But truth be told, there's a lot to catch up on in a two-hour film which causes the plot to be a bit light. Basically, the King and Queen of England have decided to stay at Downton Abbey for one night before moving on to other events, and the entire castle is excited to prepare for their arrival. Of course, the King and Queen's own butlers, cooks, footmen, etc. all show up and take over, leaving the Downton staff with nothing to do. Maybe...

Thomas Barrow (Robert James-Collier) has a bit more screen time, and his sexuality is finally given a bit of a push and even a happy ending. (So to speak.) Tom Branson (Allen Leech) takes a bit more of a front and center here with his political leanings being a plot point, and eventually a potential romance for him with the maid of Lady Bagshaw (Imelda Staunton) - a new character that is an integral part of the Abbey's future.

While Lady Mary (Michelle Dockery) and Lady Edith (Laura Carmichael) are ever-present, they don't have a lot to do until the last third of the film, when certain plot points revolve around them. They are fun to watch, but they don't have the impact other characters do.

The best characters — and this will come as no surprise —are the rascally Violet Crawley (Maggie Smith) and her frenemy Isobel Merton (Penelope Wilton), with their back-and-forth dismissive banter. It's completely hilarious and never gets old. I could just watch those two go at it for two hours. The good news is that Violet is given more depth, but it comes late in the film - almost like the filmmakers are trying to set up a sequel.

Which is the downside of this splendidly put together film: While seeing our old upstairs/downstairs friends from Downton is always a warm and inviting experience, there is nothing about the plot that is all that essential. It's about a party, a pregnancy, an inheritance, and romance. But nothing is particularly urgent or challenging. Maybe that's the point. But like "Sex and the City" - which dealt with heavier emotional issues in a comedic way as a series - once it hit the big screen, it was more of a fan-service lark.

"Downton Abbey" is a lark as well, but again, only for fans of the show. It was nice to see the people we grew to love over the six seasons it was on the air, and for many that will be enough. It's certainly a comfortable film to watch, and toward the end, I saw how they were setting up future stories. Truth be told, I welcome any return to Downton Abbey, but hopefully, the stories will carry more weight as the Crawleys move through an ever-changing world.
Downton Abbey
The beloved Crawleys and their intrepid staff prepare for the most important moment of their lives. A royal visit from the king and queen of England soon unleashes scandal, romance and intrigue -- leaving the future of Downton hanging in the balance.
Info
Runtime :: 122 mins
Release Date :: Sep 20, 2019
Language :: Silent
Country :: United Kingdom

Cast
Robert Crawley, Earl of Grantham :: Hugh Bonneville
Charles Carson :: Jim Carter
Lady Mary Crawley :: Michelle Dockery
Cora Crawley, Countess of Grantham :: Elizabeth McGovern
Violet Crawley, Dowager Countess of Grantham :: Maggie Smith
Lady Bagshaw :: Imelda Staunton
Isobel Crawley :: Penelope Wilton
Lady Edith Crawley :: Laura Carmichael
Anna Bates :: Joanne Froggatt
John Bates :: Brendan Coyle
Joseph Molesley :: Kevin Doyle
Andrew ``Andy' Parker :: Michael Fox
Henry Talbot :: Matthew Goode
Bertie Pelham :: Harry Hadden-Paton
Mr. Wilson :: David Haig
Queen Mary :: Geraldine James
Thomas Barrow :: Robert James-Collier
King George V :: Simon Jones
Tom Branson :: Allen Leech
Mrs. Hughes :: Phyllis Logan
Daisy Mason :: Sophie McShera
Lucy :: Tuppence Middleton
Captain Chetwode :: Stephen Moore
Mrs. Patmore :: Lesley Nicol
Mary, Princess Royal :: Kate Phillips
Richard Ellis :: Max Brown
Miss Baxter :: Raquel Cassidy

Crew
Director :: Michael Engler
Screenwriter :: Julian Fellowes
Producer :: Gareth Neame
Producer :: Julian Fellowes
Producer :: Liz Trubridge
Executive Producer :: Nigel Marchant
Executive Producer :: Brian Percival
Cinematographer :: Ben Smithard
Film Editor :: Mark Day
Original Music :: John Lunn
Production Design :: Donal Woods
Costume Designer :: Anna Robbins
Casting :: Jill Trevellick

Kevin Taft is a screenwriter/critic living in Los Angeles with an unnatural attachment to 'Star Wars' and the desire to be adopted by Steven Spielberg.
Comments on Facebook