The Current War: Director's Cut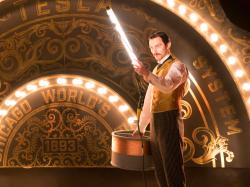 Given the subject matter and the cast involved, "The Current War: Director's Cut" should have been an electrifying film. And it has its moments, but when all is said and done it feels more like one of those safe 1940s Hollywood biopics than anything truly remarkable or revealing.
The story itself is a captivating one, rich with promise. During the late 19th century, inventor extraordinaire Thomas Alva Edison (Benedict Cumberbatch), who has already given the world the phonograph and light bulb, battles it out with George Westinghouse (Michael Shannon), inventor of the locomotive air brake, for who will eventually illuminate the country via electricity.
Both men are presented as celebrities of their day. Edison is the brazen, but genius, rock star, while Westinghouse is more like a frustrated, aristocratic classical pianist. The class comment is never lost on the viewer.
"The Current War: Director's Cut" first premiered at the 2017 Toronto Film Festival and was slated for distribution in November of that year, but was shelved after the Harvey Weinstein scandal broke. In these two years, the director has trimmed some ten minutes off the running time and added a few additional scenes.
So where does the film go awry?
I don't fault the director. Alfonso Gomez-Rejon (who helmed "Me and Earl and the Dying Girl," one of the most underrated films of the decade) keeps things moving rather swiftly and, along with his cinematographer Chung-Hoon Chung, frames the film in a wackily mesmerizing, if sometimes off-putting manner.
That leaves the uneven, much too serious and self-important screenplay by Michael Mitnick. The script is smart but overly plodding and almost devoid of any sense of humor, belaboring points when is should simplify and vice versa. In addition, our two nemeses only meet up briefly, and the scene is a colossal letdown. (One gets the sense this story would have made a better opera than movie).
A subplot involving the newly-created electric chair has potential, but isn't given enough heft to matter much.
And the film's final race for who wins the World's Fair contract is about as thrilling as staring at a lamp.
As for the cast...
Cumberbatch is always excellent, but he's played this type of arrogant, abrasive genius before and it becomes a bit tedious. Still, he is always engrossing to watch.
Shannon, another acting wizard, feels a bit uncomfortable playing Westinghouse, as if he's being forced to tone himself down — at gunpoint.
Tom Holland and Nicholas Hoult, in standout supporting roles, electrify the screen when they're on camera. Unfortunately, that isn't often enough.
Shamefully, the women in the film don't seem to matter a damn. Neither spouse (played by Tuppence Middleton and Katherine Waterston) is given enough to do. It's ironic and telling that this was one of the last Weinstein Company films.
Another tremendous Weinstein irony is that films like "The Current War: Director's Cut" are exactly the kind of created-under-the-Harvey-bullying-gun "prestige" Oscar bait that the fallen titan would smash down voters throats until they relented, nominating films that had no place receiving multiple nominations let alone winning actual Oscars. The list is endless: "Shakespeare in Love," "Life is Beautiful," "The Cider House Rules," "Chocolat," "Finding Neverland," "The King's Speech," "The Artist," and "Silver Linings Playbook." These films are all quite good, but Best Picture material? Study the years and get back to me!
And we will never know just how much influence Harvey had over actual filming of "The Current War: Director's Cut."
The end scroll mentions that Edison would go on to invent the motion picture, and I couldn't help wondering if that's where this film should have started — that may be the really exciting cinematic story waiting to be told.
The Current War
Thomas Edison and George Westinghouse -- the greatest inventors of the industrial age -- engage in a battle of technology and ideas that will determine whose electrical system will power the new century. Backed by J.P. Morgan, Edison dazzles the world by lighting Manhattan. But Westinghouse, aided by Nikola Tesla, sees fatal flaws in Edison's direct current design. Westinghouse and Tesla bet everything on risky and dangerous alternating current.
Info
Runtime :: 107 mins
Release Date :: Oct 04, 2019
Language :: Silent
Country :: United States

Cast
Thomas Edison :: Benedict Cumberbatch
George Westinghouse :: Michael Shannon
Nikola Tesla :: Nicholas Hoult
Marguerite Erskine :: Katherine Waterston
Mary Edison :: Tuppence Middleton
Samuel Insull :: Tom Holland
J.P. Morgan :: Matthew MacFadyen
William Kemmler :: Conor MacNeill

Crew
Director :: Alfonso Gomez-Rejon
Screenwriter :: Michael Mitnick
Producer :: Timur Bekmambetov
Producer :: Basil Iwanyk
Executive Producer :: Benedict Cumberbatch
Executive Producer :: Adam Ackland
Executive Producer :: David Glasser
Executive Producer :: Bob Weinstein
Executive Producer :: Garrett Basch
Executive Producer :: Steve Zaillian
Executive Producer :: Martin Scorsese
Executive Producer :: Michael Mitnick
Executive Producer :: Ann Ruark
Cinematographer :: Chung-hoon Chung
Film Editor :: David Trachtenberg
Original Music :: Volker Bertelmann
Production Design :: Jan Roelfs
Costume Designer :: Michael Wilkinson
Casting :: Ellen Lewis
Casting :: Theo Park

Frank J. Avella is a film and theatre journalist and is thrilled to be writing for EDGE. He is also a proud Dramatists Guild member and a recipient of a 2018 Bogliasco Foundation Fellowship. He was awarded a 2015 Fellowship Award from the NJ State Council on the Arts, the 2016 Helene Wurlitzer Residency Grant and the Chesley/Bumbalo Foundation Playwright Award for his play Consent, which was also a 2012 semifinalist for the O'Neill. His play, Vatican Falls, took part in the 2017 Planet Connections Festivity and Frank was nominated for Outstanding Playwriting. Lured was a semifinalist for the 2018 O'Neill and received a 2018 Arch and Bruce Brown Foundation Grant. Lured will premiere in 2018 in NYC and 2019 in Rome, Italy. LuredThePlay.com
Comments on Facebook