Where'd You Go, Bernadette?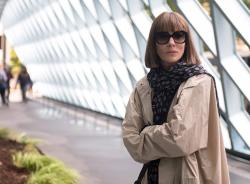 It's always bothered me how when speeches are given by politicians (and other luminaries), they always pay tribute to doctors, policemen, firemen, teachers, members of the military, and, of course, the working class. But you never hear anyone ever mention artists. It's as if creative people don't contribute to society. Artists don't seem to matter or even exist.
Writer-director extraordinaire Richard Linklater is trying to focus a light on why artists do matter in his engrossing and unique new film, "Where'd You Go, Bernadette?"
If you've watched the trailers online or on TV, do yourself a favor and forget them! The team behind this gem clearly has no clue how to market the movie and have chosen to excise some of the silly "funny" scenes and make the film appear to be some kind of comedy-mystery. While "Bernadette" has its share of hilarious moments, it is not a work that is easily defined or placed into a nice promotional box, which is one of the many reasons it's so good.
Based on the 2012 best-selling novel by Maria Semple (that I have not read), "Where'd You Go, Bernadette," has a deceptively simple plot. Bernadette Fox (Cate Blanchett) is a fish out of water. She's suburban wife and mother to Elgin (Billy Crudup) and 15-year-old Bee (Emma Nelson) respectively, yet quite miserable and admittedly misanthropic. But we soon learn that she was once a celebrated architect whose work was considered groundbreaking, but who turned her back on her career because of creative conflicts.
She's now forced to deal with "the banality of life." An example is her annoying neighbor, the anal Audrey (Kristin Wiig), one of the mothers at Bee's school. She (possibly) deliberately causes a mudslide. And, thanks to a whopper of an Internet mistake, she is now seen as a danger to herself and society by her own husband, who wants to have her committed. So Bernadette disappears... sort of.
Without giving too much more away, Antarctica, and its beauty, plays an important role in the rest of the story.
No one plays neurotic, nasty and borderline batty better than Blanchett, but here her performance is layered with a longing she's not even aware she has, as well as a deeply conflicted angst. She adores her daughter, but is stifled by the dull, rote world she's forced to exist in. Blanchett navigates the nuances of a character that doesn't feel the need to be nice and whose honesty pisses people off. It isn't until later that her behavior makes complete sense, and we root for her to find herself and her purpose again.
Blanchett's Bernadette is not someone who wallows in past tragedies, but they've made her who she is, and the actress does a fabulous job of peeling off those hidden layers and revealing a wounded soul.
The rest of the cast is superb. Crudup manages sympathy for a character that's hard not to resent. Newcomer Nelson wonderfully shows how fiercely loyal a daughter who loves her mother can be, something absent from most films dealing with a mother/daughter relationship ("Lady Bird," anyone?). It's a refreshing take. And Wiig has a few delightful surprises up her gifted sleeve.
Linklater is a filmmaker who continues to grow and make distinct and singular features that are often sublime, like "Bernadette," an absolute triumph of a film about artists and the way they're treated (and mistreated by most of society), and about what it means to be a mother. The movie wonders if the parent/artist can ever fully commit to one without alienating/destroying the other.
I'll admit the denouement proves a bit too convenient, but it works rather magnificently. Rarely do we get a film about a true artist, let alone a female one, that allows said artist to rediscover their passion, their raison d'être, and be allowed to do so and be understood and celebrated in the process.
We need more films like "Where'd You Go, Bernadette?"
Frank J. Avella is a film and theatre journalist and is thrilled to be writing for EDGE. He is also a proud Dramatists Guild member and a recipient of a 2018 Bogliasco Foundation Fellowship. He was awarded a 2015 Fellowship Award from the NJ State Council on the Arts, the 2016 Helene Wurlitzer Residency Grant and the Chesley/Bumbalo Foundation Playwright Award for his play Consent, which was also a 2012 semifinalist for the O'Neill. His play, Vatican Falls, took part in the 2017 Planet Connections Festivity and Frank was nominated for Outstanding Playwriting. Lured was a semifinalist for the 2018 O'Neill and received a 2018 Arch and Bruce Brown Foundation Grant. Lured will premiere in 2018 in NYC and 2019 in Rome, Italy. LuredThePlay.com
Comments on Facebook