Changing The Game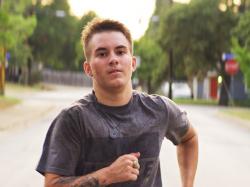 "Changing the Game" is Michael Barnett's fierce, beautiful, hopeful documentary about transgender teenagers.
He follows three athletes and their quests to be accepted in their sports, and into a country that is growing more and more hostile towards trans people and their rights. The trio also grapples with gender dysmorphia, the distress caused when a person's birth-assigned gender does not match their identity. The film shares that 40% of trans youth attempt or commit suicide.
Mack is from Texas, where he was born a girl but always wanted to wrestle like a man. The state forces kids to compete as the gender they were born, so he is the girls' state wrestling champion, which, several point out, is not fair to anybody.
"I feel like I'm winning, but I'm also losing at the same time," Mack says, because he wants to be in the male division, and has to weather the vitriol directed at him for taking testosterone, which rival parents deem as unfair.
Mack's girlfriend Preslee notes, "The people hating on him are adults, and he's a teenager."
Even a born-female competitor says, "Do you think someone would change gender only to win state? No, that's not how it works."
In Connecticut, Andraya runs track, and faces the same hate speech at meets for being born a boy but now running with the girls. African American trans students are five times more likely to be murdered than their peers, so she takes seriously the mantle of representation.
Sarah Rose is a Nordic and downhill skier in New Hampshire, the "Live Free or Die" state, which she says she "takes metaphorically." She is also a vlogger and activist pushing for legislation to protect trans people, because "I deserve equal rights."
"I'm a human, not a monster," she says.
What's remarkable about this energetic, 90-minute film is the families and coaches. Amidst the brutal ringside bullying and online death threats to these kids, their parents (in Mack's case, his Christian Republican grandparents who raised him), school administrators and athletic directors are forthright in their acceptance of these young people and staunch in their advocacy for trans rights.
Mack's grandma Nancy, a Dallas sheriff, says, "If we didn't accept him, he wouldn't be alive today."
Sarah Rose's parents add, "It's not political. Why not let people be people? What difference does it make?"
Karin McKie is a writer, educator and activist at KarinMcKie.com
Comments on Facebook