Top Story
UK's Channel Four released a first-look trailer and a still from Russell T. Davies' new series "It's A Sin."
In 2009 the Warwick Rowers released their first calendar of naked members of the university team. Since then they've grown to become an international sensation. See why as they release their 2021 calendar.
Glenn Close is the most-nominated actress in Oscar history without a win, and will likely be getting another nomination for "Hillbilly Elegy," now on Netflix. But she is making headlines for trolling another actresss's Oscar win.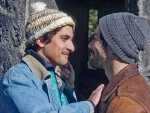 González and Altamirano share a palpable chemistry, whether their characters are sneaking passionate kisses, having passionate sex, or cuddling up contentedly for a good night's sleep.
A fresh set of young eyes on the old problem of the plight of the LGBTQ community in Russia.
Writer Stanley Kalu and director Ali LeRoy bring fresh life to the "Groundhog Day" movie genre with this piercing, effective drama,