Gay New York City: The Latest
Netflix has sent a cease and desist letter to Super Happy Fun America, the group responsible for organizing the upcoming Straight Pride Parade in Boston, telling them they are not allowed to use their logo or name in any materials.
The New Republic pulled queer writer Dale Peck's piece criticizing Pete Buttigieg for being homophobic. But was it? (You can read it here.)
A-list celebrities seem to be opening their hearts — or at least their wallets — to Pete Buttigieg.
Kevin Spacey's legal woes are not over, despite the collapse of the only criminal case brought against the two-time Oscar winner since he became mired in sexual misconduct allegations.
President Donald Trump said Thursday he was unhappy with his supporters chanting "send her back" after he assailed a young Democratic congresswoman who he's suggested should leave the U.S.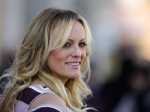 Court records released Thursday show Donald Trump was aware of efforts to keep a porn star and a Playboy centerfold silent in the days leading up to the 2016 election.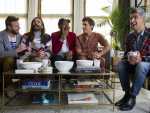 In "Queer Eye" Season 4, which hits Netflix Friday, the Fab Five get a bit personal but the makeover reality show still offers up the same kind comfort TV.
Actress Sally Field and the long-running children's TV show "Sesame Street" are in the latest class of Kennedy Center Honors recipients.
The 76TH Venice Film Festival is opening with Japanese director Hirokazu Kore-eda's "The Truth."
Michael Johnson, the former wrestler from Lindenwood University who was convicted of transmitting HIV, was recently released from Missouri State Prison and is speaking out about his story with HIV. He hopes to advocate for updated exposure laws.
There's good news... sort of... for gay men in France who wish to donate blood: They will soon be able to do so after only four months of complete celibacy instead of a full year.
New York City, NY
A small, charming, doll-house replica of row of tenements houses on a block in Harlem in the 1920s is the entire set for The Tank's production of Amina Henry's new play, a sweet, if slight story of three children helping to put together a "rent party."
Gigi Gorgeous and Nats Getty shared a blissful day at the beach after their spectacular wedding at the Rosewood Miramar Beach in Montecito, CA on Friday.
Three members of a white supremacist group face sentencing on a federal riot charge in connection with a white nationalist rally in Virginia and political rallies in California.
Long before President Donald Trump turned up the heat on four Democratic congresswomen of color, saying they should "go back" to their home countries, hateful rhetoric and disinformation about the self-described squad was lurking online.

Here are four beach destinations where you could soak up the sun using points and miles.
Mercedes luxury at a Honda price point ? it's a tempting proposition. But is it the smarter choice? Edmunds looks at the pros and cons of buying a new non-luxury car versus a used luxury vehicle.
The martini's heyday began almost a century ago, but today's bartenders have some innovative takes on the classic cocktail.

The deadly Ebola outbreak in Congo is now an international health emergency, the World Health Organization announced Wednesday after a case was confirmed in a city of 2 million people.
From Memorial Day to Labor Day, Americans will travel and have to deal with 19 bouts of hunger, 16 "are we there yets," 18 "how much longers" and 17 "I'm tireds."
San Diego held its LGBTQ Pride celebration at Balboa Park with four stages and over 100 performers and community activists.