Top Story
Jewelry, clothing and other Elvis Presley-related memorabilia have been sold at auction in Tennessee.
The authors of "Whats Your Season? Healing Principles and Recipes for Your Body Type" offer a fresh approach to optimize your health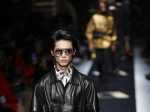 Milan menswear designers are sending clear signals for next fall and winter: Feminine touches are not only acceptable, they are necessary.
Bookworms rack up over 700 hours of reading a year — the equivalent of 30 full days, according to new research.
The scent of burgers, fries and victory wafted through the stately White House on Monday as President Donald Trump saluted college football's Clemson Tigers for winning the national championship.
To stay on trend, Italian fashion houses are refashioning themselves for future growth.