Gay New York City: The Latest
A former candidate for the Florida Legislature acknowledged to state investigators that she lied when she said she was a medical doctor who had removed 77 bullets from 32 victims of the Pulse nightclub shooting in 2016.
Gavin Grimm, a young man who has become a national face for transgender student rights, returns to a Virginia courtroom Tuesday to continue fighting against his former high school's transgender bathroom policy.
Marvel's push for more women and people of color in its immensely popular film franchise is extending to behind the camera as it launches its next round of films after the massive success of "Avengers: Endgame."
A man has been indicted in the home invasion of a former "Real Housewives of New Jersey" cast member.
He won't watch. Well, maybe just a little bit.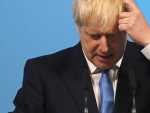 Brexit hardliner Boris Johnson won the contest to lead Britain's governing Conservative Party on Tuesday and will become the country's next prime minister, tasked with fulfilling his promise to lead the U.K. out of the European Union.
When Bernie Sanders wanted to preview a speech about his signature health care plan, "Medicare for All," he did not opt for a traditional interview.
Millions of people who take aspirin to prevent a heart attack may need to rethink the pill-popping, Harvard researchers reported Monday.
Fat-acceptance and body positive influencers are on the rise on social media and as fashion models as they fight back against the damaging pressures of idealized beauty peddled online and off.
Varla Jean Merman has been performing in Ptown for some 20 years. She's back this summer with 'A Star is Bored.' EDGE catches up with the drag superstar about the show and all things Varla.
Watch Randy Rainbow's new parody of Trump and his supporters in this reworking of the Jonas Brothers' "Sucker."
New York City, NY
A small, charming, doll-house replica of row of tenements houses on a block in Harlem in the 1920s is the entire set for The Tank's production of Amina Henry's new play, a sweet, if slight story of three children helping to put together a "rent party."
Unquestionably the hottest queer movie to come out of France this year has a controversial story about a young gay hooker. It should not be missed.
America in the summer of 1919 ran red with blood from racial violence, and yet today, 100 years later, not many people know it even happened.
A cart-like robot scuttles across the field to bring back javelins and discuses. A towering screen-on-wheels is designed for "virtual" attendance. The cute ones are, naturally, the likeness of the Olympic and Paralympic mascots.

Here are four beach destinations where you could soak up the sun using points and miles.
Volvo Cars is recalling about half a million cars worldwide because of a faulty engine component that may in extreme cases cause a vehicle to catch a fire.
They say you are what you eat and many Americans are chowing down on foods they hope will transform their health and beauty.
Party drugs like crystal meth, Special K, GHB and ecstasy are frequently combined for more intense or longer-lasting highs. Whether they're consumed together by design or accidentally, the results can be deadly.
New Orleans may reign supreme as the South's go-to party destination, but its history, diversity of cultures, LGBTQ friendliness, and "lay-say le bon tom roo-lay" attitude keeps visitors coming back.
San Diego held its LGBTQ Pride celebration at Balboa Park with four stages and over 100 performers and community activists.