1 thru 10 of 28767 Stories
Thousands gathered in cities across the country Saturday as part of the nationwide Women's March rallies focused on issues such as climate change, pay equity, reproductive rights and immigration.
At the urging of conservative advocacy groups, Republican legislators in more than a dozen states are promoting bills that focus on transgender young people.
Size matters to President Donald Trump. So much that he exaggerates continually, sometimes spectacularly, the size of what he does.
Yes, it's a trial — but the Senate's impeachment proceedings against President Donald Trump won't resemble anything Americans have seen on Court TV.
Three men linked to a violent white supremacist group known as The Base were charged with conspiring to kill members of a militant anti-fascist group, police in Georgia announced Friday.
The Trump administration on Friday took another step toward dismantling Michelle Obama's school nutrition guidelines, proposing a new rule that could lead to more pizza and fries and less fruit and a smaller variety of vegetables on school menus.
President Donald Trump has assembled a made-for-TV legal team for his Senate trial.
A jury of seven men and five women was selected Friday for Harvey Weinstein's rape trial after an arduous two-week process, setting the stage for testimony to begin in the next week.
There's no apparent impeachment fatigue among viewers of MSNBC's Rachel Maddow.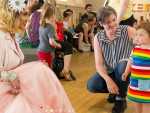 In Missouri, a Republican lawmaker has drawn up legislation that proposes to punish libraries and their staff for drag queen story hours or other "age-inappropriate" content.
1 thru 10 of 28767 Stories