Watch: For Nearly 30 Years, Gay Couple Raises Plastic Doll as Their Own Child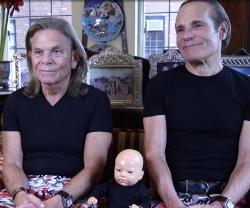 A New York city gay couple are being featured in the New York Post for their treatment of a plastic doll, which they consider to be like their own child.

AJ Sapolnick, a 74-year-old retired teacher, and his husband Mark Kirby, a 65-year-old former dentist, decided to have a baby nearly 30 years ago "that wouldn't impede our lifestyle." The couple purchased a plastic baby doll at a flea market in Paris for just $7 on April 21, 1990, and they've been treating it as their own kin, naming it Digby Du Pont.

"All our friends started having children, and we got very annoyed because they had to cancel engagements and there were always excuses," Sapolnick told the Post.

He added that raising Digby "became very real, very fast."

The men have celebrated a number of milestones for the doll, including a birthday bash at a New York City club and even a bar mitzvah.

The Post writes, "[m]oney is no object for this object, who's lavishly spoiled with Cartier and Rolex watches, dinners at Michelin-starred restaurants and bespoke tuxedos."

"Nothing is too good .?.?. everything he wants he gets," Sapolnick told the newspaper, adding that Digby is "entitled," but that may not be surprising as the doll has dined at Pastis, attended the Grand Prix in Monte Carlo and has even seen "Hamilton."

"He's our perfect child," Kirby told The Post, adding that he's happy to have avoided the trials and tribulations when it comes to raising a human child, such as teen rebellion.

"Initially it looks very strange, but as you get to know us, and be with us — it doesn't seem so unusual," he said.

"We just seem like a normal New York family," Sapolnick added.

When asked about grooming, Sapolnick said their doll "just needs to be polished once in a while."

"Fortunately, he's never been sick, although he did break his leg three times," he said.

The family is now on a 10-week tour of Asia and is currently in Vietnam. Sapolnick told The Post that when they go to Bangkok, "we expect to have a new wardrobe made for him," adding that Digby's clothes are custom-fitted because they can't find anything in stores.

"He wears preemie size, and when someone is preemie size they're usually in an incubator — they don't go out to black-tie occasions, or do as much as he does socially," he said.

When asked about how they bond with the doll, Kirby told the newspaper they are "not getting the overt affection...you're not going to see yourself as much in the child."

"I don't know, people say he looks like me," Sapolnick added.

This isn't the first time the family has been featured in the news. Back in 2011, they were profiled in The New York Times.

Watch a video from The Post about the family.
Comments on Facebook