Pop Culturing is an ongoing weekly column that looks at new television, film and music and their place in the larger cultural conversation.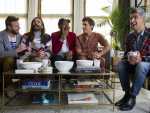 In "Queer Eye" Season 4, which hits Netflix Friday, the Fab Five get a bit personal but the makeover reality show still offers up the same kind comfort TV.
HBO's new series "Euphoria," starring Zendya, pushes the boundaries of the teen drama genre, becoming one of the most provocative, explicit and controversial shows of 2019.
Nicolas Winding Refn is the latest auteur to head to the small screen with his ultraviolent, slow-burning neo-noir series "Too Old to Die Young," on Amazon Friday, starring Miles Teller.
"Pose" returns for its second season on FX Tuesday, jumping from the 80s the 90s and landing in a pivotal moment in LGBTQ history. It's also one of the best TV shows of 2019.
"Big Little Lies," HBO's once limited series, returns for a second and likely final season Sunday, adding a fierce Meryl Streep to the show's star-studded cast.
Returning for its second season on Starz Sunday (or you can binge the entire season via the network's app on Friday), "Vida" is more confident, proud and thrilling than its excellent freshman effort.
Renée Zellweger is at the center of Netflix's very strange new anthology neo-noir "What/If," which debuts on the streaming service Friday.
Although it's been over 30 years since the catastrophic nuclear disaster at the Chernobyl Nuclear Power Plant, HBO's new miniseries "Chernobyl," which debuts Monday, is an incredibly gripping show that is rooted in today's distorted post-truth world.
Starring Christina Applegate and Linda Cardellini, Netflix's new dark-comedy-thriller "Dead to Me," which hits the streaming service Friday, is TV's biggest surprise of the year so far.
"Special," now on Netflix, is based on the life of writer Ryan O'Connell, who stars in and pens the sitcom, and is unlike any comedy on TV, telling the story of a young gay man with cerebral palsy in eight brisk 15 minute episodes.