Top Story
Richard Madden donned a James Bond-esque white tuxedo at the Cannes Film Festival, but the actor shrugged off any 007 rumors.
Thirty-nine years later, Jack is still not a dull boy. In a new pristine restoration, Stanley Kubrick's "The Shining" premiered at the Cannes Film Festival on Friday evening.
Actor Arnold Schwarzenegger was assaulted during a public appearance in South Africa on Saturday, but the 71-year-old appeared to quickly recover and say "I'm just glad the idiot didn't interrupt my Snapchat."
It's been a minute since a new fashion design competition has occurred. Enter: "Next in Fashion," soon to come on Netflix.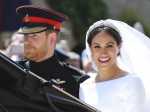 It's been an eventful first year of marriage for Prince Harry and the former Meghan Markle, now known formally as the Duchess of Sussex.
Is it any surprise that there is drama on the set of the "Beverly Hills, 90210" reboot?