Gay New York City: The Latest
Baggy Buttigieg? That is the nickname that designer Tom Ford could give Presidential candidate Pete Buttigieg (or Mayor Pete) after the candidate's team rejected his fashion advice.
Singer Elton John says he's "deeply distressed" by media accounts that criticized the Duke and Duchess of Sussex for taking a private jet to go on vacation despite the flight's carbon impact of the planet.
Carrie Underwood, who has hosted the Country Music Association Awards since 2008 with Brad Paisley, is losing her partner-in-crime.
Doctors and public health experts warn of poor health and rising costs they say will come from sweeping Trump administration changes that would deny green cards to many immigrants who use Medicaid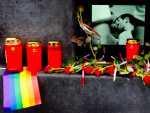 Berlin police say a central memorial to the gay victims of the Nazis has been vandalized.
Democratic presidential candidate Elizabeth Warren offered a public apology Monday to Native Americans over her past claim to tribal heritage, directly tackling an area that's proved to be her biggest political liability.
With a simple "We do," Dwayne "The Rock" Johnson announced his wedding to his longtime girlfriend on Instagram.
Aidy Bryant has rolled out the start of a new plus-size fashion line named for her great aunt, but the "Saturday Night Live" star is starting small with just one dress in three blue styles, a solid, a stripe and a gingham.
Get your first look at Ryan Murphy's very first series for Netflix, the satirical comedy "The Politician."
A popular gay Instagram user is speaking out after getting heat for posting a shirtless pic of himself alongside a shirtless Aaron Schock -- the disgraced former Republican Congressman from Illinois.
The National Park Service is creating a digital map of Carlsbad Caverns National Park to help with repairs and maintenance projects.
Tori Kelly's new album "Inspired by True Events" is very much an inspirational and a welcome blessing to the pop music spectrum; it shows significant promise and a skillfull use of narrative and lyrics that aspire to new heights.
Southwest Airlines has announced plans to offer interisland flights across Hawaii, officials said.
Americans would rather endure such vacation travesties as lost luggage or food poisoning, rather than go without internet while on vacation.
If you're looking for deeply discounted airfare, Secret Flying aggregates hundreds of flight routes each week to make your next bucket list vacation a reality.
Uber began as a ride-hailing company, but its ambition to become the "Amazon of transportation" has pushed its leaders to experiment with bus fleets, transit and its growing food delivery business.
If you like giving restaurant recommendations, picking up new snacks in the grocery store and think introducing people to new cuisines is fun — then odds are, you're a foodie.
Breakfast, lunch and dinner at Burning Man is served with a side of playa dust that covers cars and clothing and finds its way into places where the sun doesn't shine.
These exciting new hotels are the perfect way to anchor a day-long or weekend getaway, and this autumn will showcase an array of impressive additions to a rapidly expanding hotel landscape.
EDGE was on hand for the Gay Days 2019 Kick-off Party at the Wyndham Orlando Resort.