Vshred CEO and fitness trainer Vince Sant offers his insights on seven of the most popular workout trends.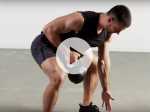 Incinerate fat, carve your abs, and layer muscle onto your arms, pecs and legs with this super-quick workout from Mathew Forzaglia.
Fashion, style and fitness expert Alex Costa offers his oh-no-you-didn't list of what not to wear to your next workout.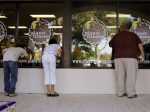 Some shrunken Kohl's stores are getting a new neighbor: Planet Fitness gyms.
Fitness expert BJ Gaddour returns with a quick 10-minute workout. (Did someone say walking Frankenstein and butt kicker?)
When actor Chris Hemsworth sought "experts" to contribute to a fitness and health app called Centr, one place he turned was to the boxing ring.
Fitness expert Max Posternak offers his list of seven muscle-building exercises that are a must for men looking for a fast and efficient way to get in shape.
The Army National Guard is looking for nearly 5,000 fitness instructors and buying roughly $40 million in workout equipment in the next seven months to help its soldiers meet new physical fitness standards being set by the military service.