Gay New York City: The Latest
In a story that broke on the New York Post on Saturday, someone has deposited piles of feces at two audition spaces over the past two weeks.
An autopsy says natural causes claimed the life of a North Carolina prosecutor found dead at home last year amid attention over "The Staircase" documentary series.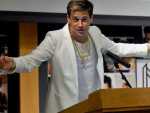 First he was banned from entering Australia. Then he wasn't. Now, following Facebook comments in the wake of Friday's New Zealand mosque shootings, right-wing commentator Milo Yiannopoulos is banned from Australia again.
The victims of a British man who deliberately infected them with HIV are featured in a new BBC documentary, where they share their stories.
In his new memoir, "Girls" actor and Broadway star Andrew Rannells opens up about the sexual assault he endured from a Catholic priest when he was in high school.
The Supreme Court is rejecting an appeal from a Hawaii bed and breakfast that wouldn't rent a room to a lesbian couple.
As Congress and the Trump administration aim to lower prescription drug costs, outside groups like the Alliance for Patient Access are seeking to sway the outcome.
After it was announced in December that Tumblr would ban pornography from its platform, several users said they would leave the site as they primarily used it to view x-rated content.
Author JK Rowling is facing a Twitter backlash for comments she made about a gay relationship between two of her characters from her "Harry Potter" franchise.
Singer Sam Smith opened up a great deal in a new interview for "Good Place" star Jameela Jamil's new Instagram show "I Weigh Interviews" where he came out as gender non-binary and also revealed he got liposuction when he was 12 years old.
Republicans are heading for a lively and rapid-fire faceoff to decide who'll represent the GOP in a new North Carolina congressional election mandated after a ballot-rigging scandal blocked the former Republican candidate's presumed victory in November.
New York City, NY
"Vatican Falls," Frank J. Avella's epic play set against the backdrop of the Catholic sex abuse scandal, will have a reading presentation on Tuesday, March 19, 2019 at 7PM at Alchemical Studios, 104 W 14th St., (between 6th & 7th Avenues), NYC.
I've seen some big names at Boston's relatively intimate House of Blues, but none—not even Adele—had a crowd as relentlessly ecstatic and eager as Robyn did last week in Boston on the tail end of her tour.
Lyft officially kicked off the road show for its initial public offering, putting 30 million shares up for sale Monday with an anticipated price of between $62 and $68 per share.
Fall armyworms, a longtime American pest, are munching their way around the globe, raising alarm now in Asia after entrenching themselves in Africa.
The nation's largest health insurer is expanding a program that passes rebates from drugmakers directly to the people that use their medications.
The pitch sounds tempting. But what exactly do these plans cover? And are they a smart use of your money?
Want to have the perfect home? It might be time to break out the piggy bank since Americans estimate it would take more than $18,000 to turn their house into a dream home.
Vshred CEO and fitness trainer Vince Sant offers his insights on seven of the most popular workout trends.
JW Marriott Austin provides a pampering backdrop for a weekend in the live music capital, where you can discover great acts any night of the week.
Talk about POV. In what some might call a personal tech advance, a UK company called Julz has released a product that combines the use of silicon cock rings and video called the "Cock Cam."