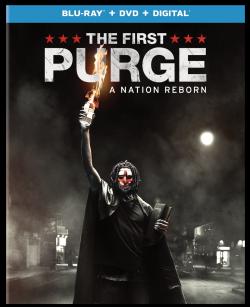 Now with the New Founding Fathers of America in charge of America's political landscape, change is inevitably coming. When Dr. Updale (Marisa Tomei) presents the chance for a risky, theoretical social experiment to become a live phenomenon, The Purge is born. Once Dmitri (Y'Lan Noel) is aware that his hometown of Staten Island has been selected to partake in the monumental social study that will forever change the way citizens interact with their government and neighbors alike, he naturally becomes suspicious of its purpose. Alongside community activist Nya (Lex Scott Davis) and her younger brother Isaiah (Joivan Wade), the three take to the streets of the first ever purge to protect their city and seek to survive at the risk of their own lives.

Enter to win!

Thanks for visiting EDGE!
Enter this contest
If you already have an account with EDGE, all you need to do is log in; we'll pull your address information from your account and simply ask you to verify it. If you do not yet have an account with us, register now! It's easy and free, and you'll never have to type in your personal information again. If you prefer to enter this information manually, you can use the manual entry link below.
Register
Manual Entry
Click here for contest rules.
* Please be aware that creating multiple accounts for the same person will disqualify you.