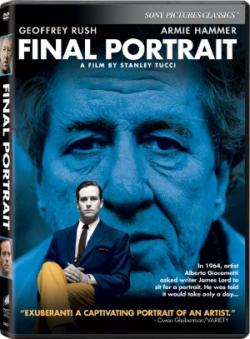 Academy Award-winner® Geoffrey Rush (Best Actor, Shine, 1997) and Golden Globe-nominee® Armie Hammer (Best Supporting Actor, Call Me By Your Name, 2017) star in the compelling story about artistic genius and the search for creative perfection in FINAL PORTRAIT, debuting on DVD and digital July 31 from Sony Pictures Home Entertainment. Adapted from James Lord's memoir "A Giacometti Portrait," the film was written and directed by Stanley Tucci (The Hunger Games franchise, Spotlight) and tells the story of famed artist Alberto Giacometti (Rush) who asks the American writer and art-lover James Lord (Hammer) to sit for a portrait which takes much longer than either of them anticipate. FINAL PORTRAIT also stars Golden Globe-winner Tony Shalhoub (TVs "Monk" 2002; "The Marvelous Mrs. Maisel"), Sylvie Testud (La Vie en Rose) and Clémence Poésy (In Bruges).

In 1964, while on a short trip to Paris, the American writer and art-lover James Lordis asked by his friend, the world-renowned artist Alberto Giacometti, to sit for a portrait. The process, Giacometti assures Lord, will take only a few days. Flattered and intrigued, Lord agrees. So begins not only the story of a touching and offbeat friendship, but, seen through the eyes of Lord, a uniquely revealing insight into the beauty, frustration, profundity and, at times, downright chaos of the artistic process. FINAL PORTRAIT is a bewitching portrait of a genius, and of a friendship between two men who are utterly different, yet increasingly bonded through a single, ever-evolving act of creativity. It is a film which shines a light on the artistic process itself, by turns exhilarating, exasperating and bewildering, questioning whether the gift of a great artist is a blessing or a curse.

Adapted from James Lord's memoir A Giacometti Portrait, FINAL PORTRAIT was written and directed by Stanley Tucci. The film was produced by Gail Egan, Nik Bower and Ilann Girardy; and executive produced by Fred Hogge and Deepak Nayar.

The DVD release of FINAL PORTRAIT includes interview clips from the cast and filmmakers, plus behind the scenes footage from the set.

Enter to win!

Thanks for visiting EDGE!
Enter this contest
If you already have an account with EDGE, all you need to do is log in; we'll pull your address information from your account and simply ask you to verify it. If you do not yet have an account with us, register now! It's easy and free, and you'll never have to type in your personal information again. If you prefer to enter this information manually, you can use the manual entry link below.
Register
Manual Entry
Click here for contest rules.
* Please be aware that creating multiple accounts for the same person will disqualify you.