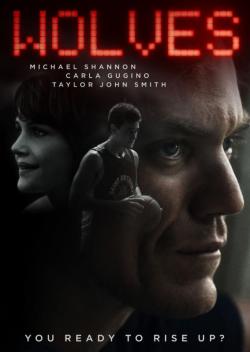 A New York City high school basketball star earns a scholarship to an Ivy League university and looks to have a perfect life ahead of him, but his unstable father threatens to destroy his career before it starts in writer-director Bart Freundlich's acclaimed new film, WOLVES. The emotional coming-of-age drama comes to DVD from IFC Films on August 8, 2017.

Anthony (Taylor John Smith, American Crime, HBO's upcoming Sharp Objects) is a standout player on his Manhattan high school's basketball team with seemingly everything going for him: a killer three-point shot, a loving girlfriend (Zazie Beetz, Deadpool, Atlanta), and a chance at a scholarship to Cornell. But Anthony's dreams of playing college ball are jeopardized by his volatile father (Oscar nominee Michael Shannon, Nocturnal Animals, Take Shelter), a hard-drinking writer whose compulsive gambling threatens to derail the lives of both his wife (Carla Gugino, Watchmen, Night at the Museum) and son. Though it goes against his nature, Anthony must summon the strength to step out from his father's shadow and reclaim his future.

Boasting an explosive performance by Michael Shannon, WOLVES pulses with the energy of New York City and "the most compelling basketball scenes since Hoop Dreams" (David Ehrlich, Indiewire).

The IFC theatrical release, from award-winning filmmaker Bart Freundlich (The Rebound, The Myth of Fingerprints), was an Official Selection at the Tribeca Film Festival. Critics have praised the compelling drama. Glenn Kenny, writing at RogerEbert.com, said, "Freundlich clearly likes to dig in deep with this kind of character material, and here it pays off," and called Michael Shannon "outstanding." Betty Jo Tucker of ReelTalk Movie Reviews said the film "boasts exciting basketball sequences" and "a strong supportive performance by John Douglas Thompson." Edward Douglas of LRM raved, "WOLVES features great performances all around, but there's undeniable brilliance in the dramatic scenes between Smith and his parents, played by Michael Shannon and Carla Gugino."

Enter to win!

Thanks for visiting EDGE!
Enter this contest
If you already have an account with EDGE, all you need to do is log in; we'll pull your address information from your account and simply ask you to verify it. If you do not yet have an account with us, register now! It's easy and free, and you'll never have to type in your personal information again. If you prefer to enter this information manually, you can use the manual entry link below.
Register
Manual Entry
Click here for contest rules.
* Please be aware that creating multiple accounts for the same person will disqualify you.