Jackie Shane, a black transgender soul singer who became a pioneering musician in Toronto where she packed out nightclubs in the 1960s, has died. She was 78.
Iowa play-by-play announcer Gary Dolphin was suspended Friday for the rest of the season for referring to Maryland's Bruno Fernando as "King Kong" during a game.
Special counsel Robert Mueller's sentencing memorandum for former Trump campaign chairman Paul Manafort was not publicly available late Friday, suggesting the document may still be under seal.
Former Vice President Joe Biden is seizing on that opening to position himself as the sole global policy expert in a crowded Democratic field if he decides to run for president.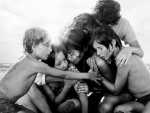 There are two things to know about the Oscars this year: the lead-up has been crazy and there is no clear cut winner for Best Picture. EDGE writers make their picks for who will win, should win and should have been nominated.
A prominent Nigerian nun blasted the culture of silence that has long kept clergy sexual abuse hidden in the Catholic Church, telling a Vatican summit Saturday that transparency and an admission of mistakes were needed to restore trust.
R. Kelly, the R&B star who has been trailed for decades by allegations that he violated underage girls and women and held some as virtual slaves, is due in court Saturday after being charged with aggravated sexual abuse involving four victims.
Robert Kraft, the billionaire owner of the New England Patriots, faces charges of soliciting a prostitute after he was twice videotaped in a sex act at a shopping-center massage parlor in Florida, police said Friday.
Despite the conflict's savagery, what followed was a remarkable rapprochement between wartime foes and it took merely 20 years to restore full relations.
Special counsel Robert Mueller's report on the Russia investigation is not expected to be delivered to the Justice Department next week, a senior department official told The Associated Press on Friday.