Indecent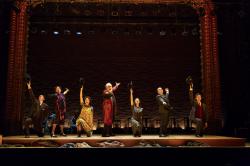 Boston audiences are starting to get used to productions created here moving on to New York, yet the reverse rarely happens except as part of a national tour. So, The Huntington bringing Rebecca Taichman's Tony Award-winning production of Paula Vogel's "Indecent" to Boston is an occasion to note.
"Indecent" captures the historic events around the development and productions of the controversial play "The God of Vengeance," by the Polish-Jewish writer Sholem Asch.
Originally written in Yiddish in 1906, "Vengeance" centers on the love between a prostitute and the daughter of the brothel's owner. It was condemned by many within the Jewish community because it was viewed as anti-Semitic due to its subject matter as well as scene where a Torah is thrown across the stage. Despite this, it became a rather successful play throughout Europe.
Eventually, the play makes it to the Yiddish theater scene of New York — and the real trouble begins.
The play is selected to move uptown for a Broadway run with an English translation. This new version also alters the story, removing the lesbian love affair and suggesting that the younger woman is seduced into becoming a prostitute. The controversy increases with the wider audience, and the entire company is arrested on charges of obscenity.
Pulitzer Prize winner Paula Vogel's play is lyric and expansive. It remains immensely human and personal while touching on censorship, homophobia, anti-Semitism, the immigrant experience, and the power of theater.
Ms. Taichman's staging is sparse and expressive and is elegantly supported by David Dorfman's beautiful choreography and the music of Lisa Gutkin and Aaron Halva. Each element of this production has become part of an organic whole and it's impossible to imagine making a change to any one thing without the entirety collapsing.
Included in this perfection is the ensemble — Richard Topol, Elizabeth A. Davis, Joby Earle, Harry Groener, Mimi Lieber, Steven Rattazzi, and Adina Verson; and musicians Matt Darriau, Patrick Farrell, Lisa Gutkin — many from the Broadway production as well. While many play multiple characters, the clarity of each individual character assures audiences never get lost.
"Indecent" is a fully immersive, sensory experience. The imagery, the music, the language, the smell of the cigarettes.... will become etched in your mind and on your soul.
At its very core, "Indecent" is a celebration of love. Love for another, love of language, love of our heritage, and love of theater.
"Indecent" continues through May 25 at the Huntington Avenue Theatre, 264 Huntington Avenue, Boston, MA. For more information, visit the Huntington Theatre Company website.
Comments on Facebook