Bedlam's Pygmalion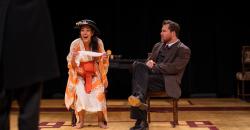 Acclaimed theater group Bedlam has returned to Boston, this time with their production on George Bernard Shaw's "Pygmalion" at Central Square Theater.
Shaw's play is a 1913 modernization of the Greek myth that appears in Ovid's "Metamorphoses." In it, Pygmalion is a sculptor that falls in love with one of his creations who then comes to life. It was a very popular subject in the Victorian era.
In Shaw's version, a professor of phonetics — Henry Higgins — "sculpts" a young flower girl — Eliza Doolittle - in to an acceptable society woman in turn of the century London. It is this version that provided the basis for the Broadway and film musical "My Fair Lady" which is likely the most familiar to contemporary audiences.
However, "My Fair Lady" is a softer and romanticized version that often eschews Shaw's original text. Shaw himself was a rather progressive feminist for the time period; supporting women's voting rights as well as challenging the social norms of patriarchal society. His Eliza evolves in to an independent person that grows out of her need to rely on Higgins or any other man that will not acknowledge her humanity. The implausible love story does not exist.
Despite people's fondness for the musical, the original is a much more satisfying experience in today's climate. Taking on topics that feel pulled from today's headlines such as class disparity, upward mobility, middle class morality, socially acceptable language versus slang, and women's agency.
As with previous Bedlam shows, this productions clings to the original script. In fact, this may be the most remarkable trait of Bedlam's work. They have the uncanny ability to fully inhabit the text of a play — every word, every syllable. Be it Shaw or Shakespeare, their connection to the language is absolute and seems to exist at a molecular level.
Artistic Director Eric Tucker once again directs a streamlined ensemble (6 actors playing 10+ characters) as well as taking on the role of Prof. Higgins. Like previous shows, his direction is swift and precise. He captures both the hilarious and heartbreaking with ease. Even in rare moments of stillness, there is an energy that seems to be propelling the story forward.
The one liberty taken by Mr. Tucker with only minor text changes is to cast the Doolittles (Eliza and her ne'er do well father Alfred) as Indian immigrants. It is a somewhat small change, but adds further depth to the script and raises additional questions surrounding Colonialist attitudes, the incorporation of immigrants in to a society, and the cultural differences in views concerning a woman's "place."
Luckily this change does not feel like a forced ploy to make the play relevant to modern audiences. Instead it adds a new and thought-provoking layer that makes this production all the more fulfilling.
The six actors are all in top form. Mr. Tucker's Higgins is delightfully curmudgeonly without ever being unlikable and Vaishnavi Sharma as Eliza is utterly luminous. One of the most spellbinding moments of the evening is watching Ms. Sharma dress for her grand test and in the process appears to have the first realization of the person she has become.
Bedlam's production reminds us why the great plays truly are timeless. For all that changes, so much in our world remains the same.
"Pygmalion" continues through March 3 at the Central Square Theater, 450 Massachusetts Avenue, Boston, MA. For more information, visit the Central Square Theater website.
Comments on Facebook