The Righteous Gemstones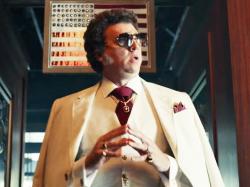 I am always interested in the exploits of grotesquely complicated protagonists the duo of Danny McBride and Jody Hill have blessed HBO in years past with the darkly comedic series, "Eastbound & Down" and "Vice Principals." Their newest, "The Righteous Gemstones," is no exception to this rule, focusing on the lives of a family of celebrity evangelicals — patriarch Eli Gemstone (John Goodman), son Jesse (McBride), other son Kelvin (Adam Devine), and daughter Judy (Edi Patterson).

Moments after performing a sensational Sunday ceremony where they boast a bravado of unwavering faith, the Gemstones leave and immediately resort to swearing and vindictiveness, flying off into the sky in a private jet with "The Holy Spirit" plastered on the side.

The Gemstones are perhaps Hill and McBride's most fascinating characters to date, especially considering the dynamics of how these family members intertwine and inevitably clash. Each Gemstone has a personality so loud it's like a blaring siren, and when multiple dispositions exist in the same space the result is almost deafening. It's certainly exhausting.

But that's ironically the appeal of these storytellers' execution. Their characters are meant to test us. They're often pieces of shit, but enchantingly so. They challenge our patience with despicable behavior and ethics that are questionable, to say the least, cementing the Gemstones as a family that is at once comedic, captivating and cringe-worthy.

The central plot of this new series kicks into action when Jesse is blackmailed with a video that would wholly damage is reputation as a world-renowned man of faith, and he, Kelvin and Judy attempt to hatch a plan to deal with the situation. The results are sinisterly hilarious, with moments that genuinely had me grabbing my gut. But the most interesting aspect of this series' beginnings is where the path may go. The first episode, an hour-long, will debut this week, with eight half-hour episodes on subsequent Sundays. Like Hill and McBride's previous work, "The Righteous Gemstones" isn't one to miss.
Comments on Facebook