There's no getting around the film's paperback origins or the feeling that this horror story is founded not on New Zealand's unsteady bedrock so much as on teen hormones.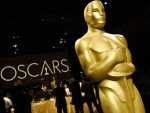 Academy Awards producers Donna Gigliotti and Glenn Weiss have been hearing the same question a lot recently: Are you OK?
The estate of Michael Jackson on Thursday sued HBO over a documentary about two men who accuse the late pop superstar of molesting them when they were boys, saying the film violates a 1992 contract to air a Jackson concert.
"Greta" is a goofy, wildly entertaining stalker-thriller with Isabelle Huppert hamming it up to 11.
Wade Robson and James Safechuck didn't know what to think when the lights went up after the first public screening of "Leaving Neverland" late last month at the Sundance Film Festival.
At the glad-handy Oscar nominees luncheon earlier this month, film academy president John Bailey proudly told the 171 nominees in the room that there were a record number of women nominated for Academy Awards this year.
"How to Train Your Dragon: The Hidden World" lacks the heart and emotional scale found in the previous two entries of the franchise, but it's still a fun, beautifully animated adventure worth taking.
"The Front Runner" is a competently retold piece of history with some standout performances that doesn't outstay its welcome. It's just too bad it wasn't a bit more special.
After debuting at the Sundance Film Festival earlier this year, the trailer for the upcoming HBO Michael Jackson documentary "Leaving Neverland" got its first trailer.
As one of the first out black men in stand-up comedy, Sampson McCormick has created a short film that's anything but a laughing matter.